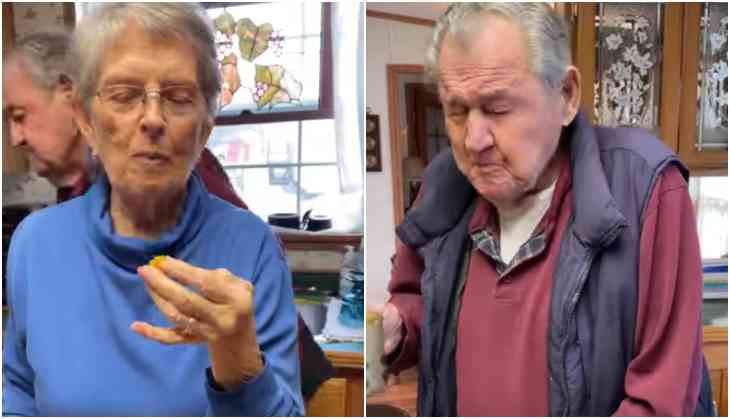 Screenshot from the viral clip
India is a land of diverse cultures, languages, and cuisine. When it comes to Indian food, no other country can beat us. All the Indian states and union territories have their famous cuisine, however, the one thing that is common about the food is the taste.
Undoubtedly, food is a great way to connect with various cultures. One such video of an elderly foreign couple who tried Indian food for the first time and their reaction is winning the Internet.
Also Read: Australian girl tries Indian food for first time, her reaction leaves internet in awe [Watch]
The video was shared by an Instagram user and granddaughter of the elderly couple, Jessica who captioned the video, "My 90-year-old grandparents trying Indian sweets and namkeen."
In the now-viral clip, the grandmother first tastes a ladoo while the grandfather tries some namkeen that was quite spicy for him.
Check out the reaction of the elderly couple:
The grandmother loves the Indian dessert while the grandfather makes funny faces after eating the spicy namkeen. The woman in the video can also be heard asking him to have a coffee to wash it down.
Meanwhile, the adorable clip has garnered over 2 lakh views and several comments from netizens.
One of the users said, "They're such a good sport! God bless you all!"
Another wrote, "So cute. Please bring them to India once."
"Awww so sweet. I can see traces of your features in your grandma," another comment reads.
What are your views about this cute video?
Also Read: Woman installs camera in fridge after food goes missing, here's what she found