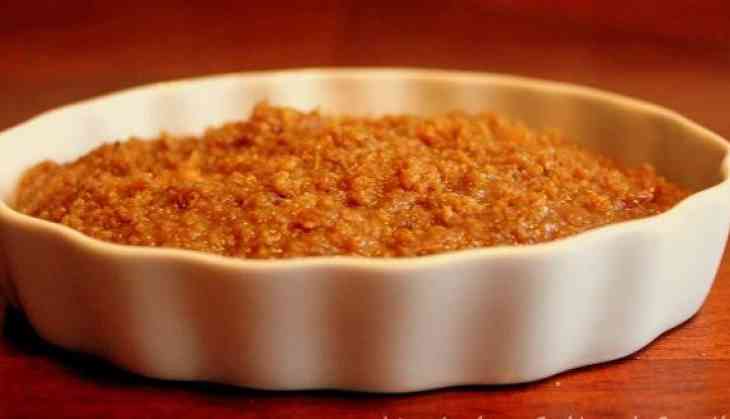 This Holi, welcome spring with a myriad of colors and nutty delicacies that is sure to leave a long-lasting impact on your near and dear ones.
Prepare delicious easy to cook Holi desserts by using walnuts - an excellent source of alpha-linolenic acid (ALA) - the plant-based form of omega-3.
Walnuts are also credited with offering a variety of antioxidants that may help to protect from certain chronic diseases of aging, including cardiovascular, neurological and anticarcinogenic ailments.
Read More: This Holi, Explore these 5 Breathtaking Getaways on Holi
The festival of colors becomes imperative to savor in some traditional delights. So why not do it by showing that extra care for our loved ones and infusing walnuts in our ever so favorite Indian delicacies.
Known for its usage and versatility, walnuts are sure to win every dessert lover's heart.
So this year, give your favorite Halwa a walnutty twist with California Walnuts by trying out this easy to cook Holi recipe below:
Walnut Halwa
Ingredients
250 gms California Walnut, 80 gms Ghee, 120 gms Milk Powder, 150 gms Milk, 100 gms Sugar, 100 gms Grated Khoya/Mawa (milk solids), 0.5 tsp Green Cardamom Powder along with Walnut Kernels for garnishing.
Preparing Method
- Crush walnuts coarsely. Heat ghee in a non-stick pan, add crushed walnuts and saute till fragrant.
- Add milk solids, mix and continue to saute. Add milk powder, mix well and continue to saute.
- Add milk and mix.
- Add green cardamom powder and sugar and mix well and cook on medium heat till the mixture thickens to halwa (thick) consistency. Serve warm or cold garnished with walnut kernels.
This healthy twist to the most savored halwa is sure to make you the 'Star Chef of the House'.
A delicacy like no other, Walnut Halwa is definitely going to add a contemporary touch to your Holi delicacies.
So gear up to don your chef hat and enjoy a lip-smacking dessert with your loved ones!
Read More: In photos: Mathura's Special Lathmar Holi, festival of sticks and color