Ticket collectors brutally thrash passenger on Mumbai-Jainagar train; video goes viral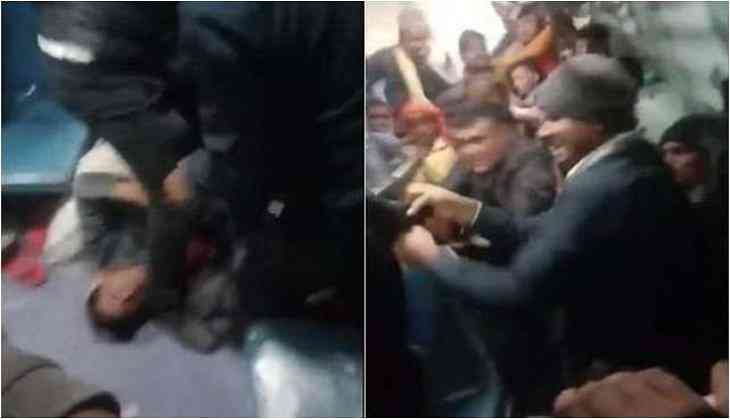 In a shocking incident reported from Bihar's Muzaffarpur, two train ticket collectors have been suspended after they were seen savagely assaulting a passenger earlier this week in a video that has gone viral.
An argument between one of the ticket collectors and the passenger culminated into a full-blown fist fight, the video recorded by one of the passengers shows.
When the ticket collector makes an attempt to yank the passenger down from the top berth by grabbing his leg, the passenger tries to resist, kicking the official.
The ticket collector is then joined by a colleague, and they pull the man down to the floor and thrash him brutally, even kicking him in the face with their boots.
Here's the video:
ON CAMERA: 2 ticket collectors brutally #thrash #passenger on Mumbai-Jainagar train in #Muzaffarpur; suspended after shocking video goes viralhttps://t.co/QmZcbxhn31#India #IndiaNews #TicketChecker #ViralVideo #fight pic.twitter.com/2uZw4PjjPs

— Free Press Journal (@fpjindia) January 6, 2023
The other passengers in the train manage to break up the attack and are heard telling the ticket collectors they should not have assaulted the man.
The shocking incident reportedly happened on a train from Mumbai to Jainagar, near Dholi railway station, on the night of January 2.
The argument started because the passenger was travelling without a ticket, reports said.
According to a railways spokesperson, the two ticket collectors have been suspended with immediate effect.
"Strict action will be taken against them," they said.
Also Read: Ukraine Shocking Video: Journalist narrowly escapes from Russian missile