Shocking! Men slaughter giant 12-feet long king cobra for feast amid lockdown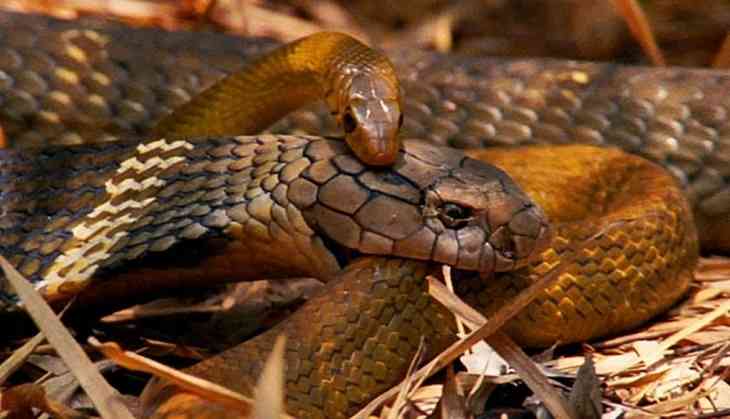 A shocking incident has been reported from Arunachal Pradesh where a group of people hunted a venomous cobra. The spine-chilling incident came to light when a video of three men carrying at least 12-feet long king cobra on their shoulder, surfaced the Internet.
Reportedly, the hunters allegedly killed the poisonous reptile in the jungle. In the viral video, the three men were seen displaying the snake and also cleaning, chopping the snake on the banana leaves for their food.
The video has drawn flak from netizens on social media.
According to the reports in NDTV, one of the hunters said that due to the nationwide lockdown, their rice stock has been exhausted due to which they decided to hunt something.
Hence, they all went to the jungle to find something to eat. During their exploration, they found the king cobra, the hunter said.
After this news went viral, the department of information and public relations (DIPR) rejected this claim made by the leading news portal through a tweet.
"There is no shortage of rice in AP. The state has atleast three months stock at all places & is providing free ration to those who lost their livelihood. Around 20000 people have been provided free ration till date," tweet reads.
Also, a press releases was also circulated on Monday by DIPR to clarify the chaos created by the news reports about food shortage in AP.
"The government of Arunachal Pradesh has noticed certain media reports regarding hunters killing King Cobra for meal as there is no rice left amid lockdown. Such factually incorrect reporting should have been avoided," said the communiqué from DIPR.
"There is sufficient stock of rice available in every district of Arunachal Pradesh which can last at lease for next three months. All the 13 CPO locations which are situated at remote border areas also have at least two months of rice stock. Since lockdown Indian Air Force has carried out multiple sorties of AN-32 and helicopter for lifting rice to remote locations in Arunachal Pradesh. State government has also used its helicopter for the said purpose, " said the release.
"FCI has also provided more than 1000 MT of rice for open market sales in various districts. The state has also created a buffer stock of 100 MT of potato and 60 MT of pulses which can be released in market based on the demand. The state is also providing free ration to those whose livelihood has been impacted due to the lock-down. Around 20,000 persons have received free ration in various districts of Arunachal Pradesh since the lockdown was announced," the release added.
Even Union minister of state for youth affairs and sports Kiren Rijiju, who also hails from Arunachal Pradesh, urged the media platform not to publish such kind of stories without any verification.
He took to Twitter and wrote, "Dear @ndtv please don't make stories without verification! I'm dead against hunting and killing of animals so is the State Govt. But to say that there's no rice left for the people leading to killing of cobra is rubbish! No one hunts snakes for consumption in Arunachal Pradesh."
Earlier in February, six giant pythons were allegedly slaughtered in Kanchanpur subdivision of North Tripura.
However, Police arrested the accused belonged to Simlung village. They were booked under the provisions of the Wildlife (Protection) Act, 1972.
In the video that circulated on social media showed the group of men was also seen skinning and chopping the pythons into several pieces. They were also cooked the reptiles for their food.
Several NGOs and wildlife activists were protested against the brutal killings of endangered pythons.
According to the IUCN, the king cobra is a vulnerable species that should be protected from killings. It has declared the reptiles in the Red List as it is believed to be a threatened species. Under national laws, king cobra has been protected under Schedule 2 of the Indian Wildlife Protection Act, 1972.
Amid coronavirus pandemic, all the ministers are working round the clock for any kind of information related to COVID-19.
Also Read: IFS officer shares disturbing video of snake vomiting a plastic bottle; visual will hit you hard!