'Natural ally': why Jayalalithaa is cracking down on student dissent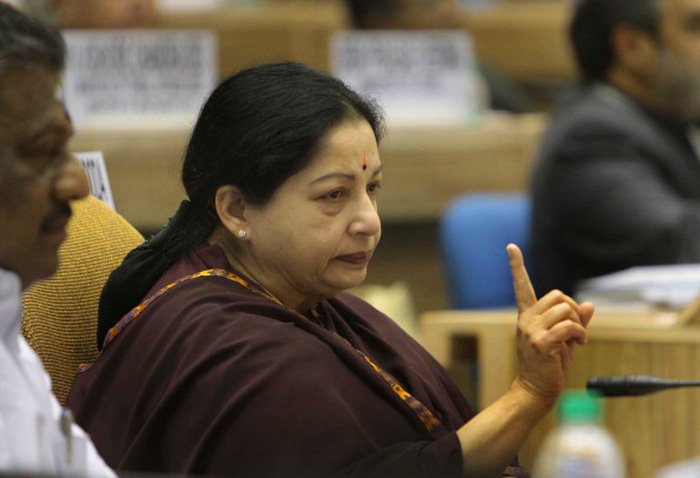 Kanimozhi Murugan, 23, studies law at Chennai's Ambedkar Law College. And she has been an active member of the Makkal Kalai Ilakiya Kazhagam, also known as the Revolutionary Students Youth Front, for the past four years.
On Thursday, Murugan, along with 56 other RSYS members set out for Chennai's Shastri Bhavan, to protest against the arrest of JNU Students Union leader Kanhaiya Kumar.
Also read - 10,000 protestors. 2 top lawyers. 1 mission: #FreeKanhaiya
Their demands: that Kanhaiya be released immediately, that students must not be arrested on charges of sedition, and that the ABVP be banned from educational institutions.
They protestors barely set out when about a hundred uniformed policemen arrived and almost immediately bundled every single one of them into vans.
They were detained. For sedition, of course, or at least that's what they were led to believe by the police.
The protestors were driven to a marriage hall at Nungambakam and kept there until 5.30 pm when they were released.
"By now we are used to this behavior," says Murugan, who had been part of a similar protest last month after the suicide of Hyderabad Central University scholar Rohith Vemula. "It was the same then. They arrived just this way and obstructed our protest by forcing us into vans and taking us away from the venue."
Murugan says the crackdown is usually well-planned - and not spontaneous - and the police are considerate enough to arrange for food and water for the detained protesters. In fact, inside the marriage hall, they are even allowed to sing protest songs and shout slogans.
State of churn
But outside, even shouting a slogan is an invitation to getting detained. Among the 57 detained protestors was Kovan, a famous Tamil folk protest singer who is at the forefront of the RSYS and had invited the wrath of the state earlier as well.
According to fellow marchers, it was when Kovan started singing outside Shastri Bhavan that the police got irked into action.
He was singing about Kaavi Irul, or a "terrible saffron darkness enveloping our lives, dictating our beliefs, ideology and culture".
A 20-year-old political science student at Chennai's Presidency College who goes as just Mubeen is part of the All India Student Federation, or AISF. He's organising protests, along with activists of other Leftist student bodies, across 10 districts of Tamil Nadu against the happenings at the JNU.
AIADMK-BJP alliance may take shape, and Jayalalithaa wants to keep her doors open: Mubeen, AISF
"Our students are protesting in Trichy, Dindigul, Selam, Nagapattnam, Thiruvarur and in many other places. But only Chennai gets the media's attention. That's why the police are actively dismantling our protests in Chennai," Mubeen explains.
Student activists such as Mubeen worry that the right to dissent is being eroded in the state. The trend began with the protests against IIT Chennai derecognising the Ambedkar Periyar Student Group in May 2015. That was the first time student groups witnessed the police crack down on them.
"During the protests after Vemula's death, we were taken away after some sloganeering. But this time around we felt that they didn't even allow us to continue chanting slogans even for a few minutes," says Mururgan.
Also read - Ram Madhav renews alliance hope, but is PDP-BJP rift too deep to fix?
Game of power
Many activists pin the blame for the intensifying crackdown on dissent directly on the chief minister J Jayalalithaa - specifically, her political calculations.
Anthony Marx, the president of the National Commission for Human Rights Organisations, says, "Though there is no alliance between the AIADMK and the BJP, Jaya is not ready for any rift with the Centre. Although she permitted the students to agitate on Tamil Elam issue, she will not tolerate this sort of a struggle."
"As LK Advani once put it, she is a natural partner of the Sangh Parivar. And as far as the idea of nationalism goes, you cannot find any difference between the Sangh and the AIADMK."
Students like Mubeen argue that "Amma" is scared of the media. She does not want any scene unfolding on national TV that would spoil her relations with the Centre. "There is a good chance that this alliance will take shape, and she wants to keep her doors open," says Mubeen.
The moment we're out, we'll protest again against the dictatorial NDA regime: Kanimozhi Murugan, RSYF
Not that the students are deterred. In fact, student groups across Tamil Nadu sound angrier than ever.
"The government will fail miserably in its attempt to annihilate the very idea of liberal thought on campuses," says Marx.
"Whether it was killing Kalburgi, Pansare, Rohith, or torturing Kanhaiya, we're unanimously protesting every action of this dictatorial government at the Centre, including its acts to thwart student politics. The moment we are out, we'll be out on the streets again," says Murugan
Jayalalithaa, it seems, has a tough fight on her hands, one that could cost her politically - BJP by her side or not.
More in Catch - #LessonforDelhi: how teachers, cops prevented violence in Jadavpur
Watch: The song for which the Jayalalithaa govt arrested a folk singer
Kovan refuses to cower before Jayalalithaa, sings a song upon his release