10,000 protestors. 2 top lawyers. 1 mission: #FreeKanhaiya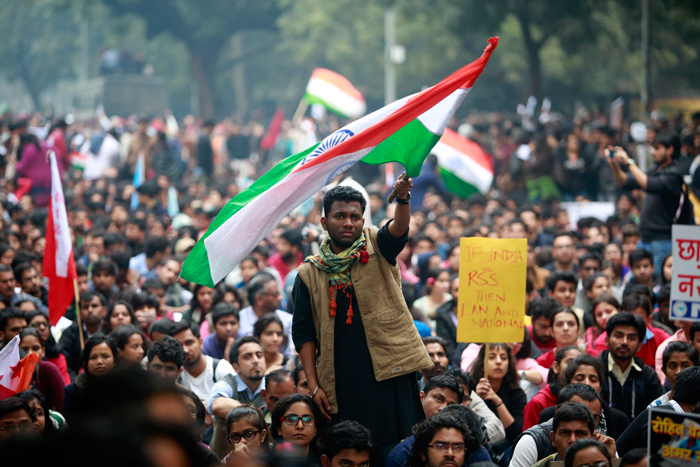 Six days after JNUSU president Kanhaiya Kumar was arrested and charged with sedition, the tide seems to be turning in his favour.
Three developments that took place on Thursday, seem to be pointing in this direction.
First, above 10,000 people marched from Mandi House to Jantar Mantar demanding his release. While activists from almost all the non-ABVP student groups participated in the march, it also included students not associated with any outfit, activists, academicians, and artistes.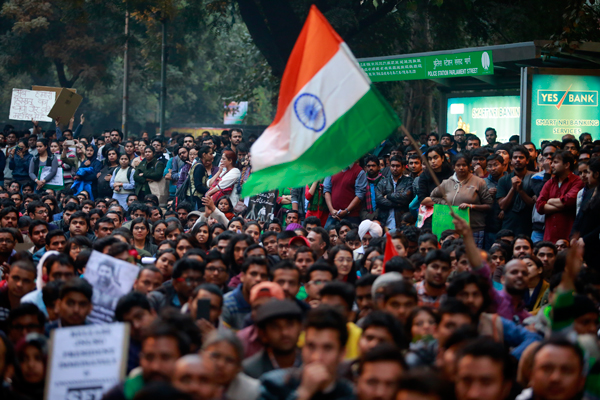 Second, the legal battle for securing his release has gathered steam. Kumar has filed a writ petition in the Supreme Court, stating that his life as well as his fundamental right to a fair trail are in danger, given the attack on him at the Patiala House Court on Wednesday. Two legal stalwarts have come forward to argue his case - former Attorney General Soli Sorabjee and Senior Advocate Raju Ramachandran. The petition is likely to come up for hearing on Friday. Parallely, Kumar has also filed for bail.
Kumar has filed a writ petition in SC. Soli Sorabjee and Raju Ramachandran will argue his case
Third, the political clamour for his release also seems to have grown stronger. BJP's own ally at the Centre, LJP leader Ram Vilas Paswan spoke out in Kumar's support.
The message is clear: the arrest of Kanhaiya Kumar has backfired on the BJP and Thursday was a turning point in the entire tussle.
Also read: #JNUCrackdown: politics of paranoia around sedition can singe Rajnath
Here's what happened during the day.
Legal battle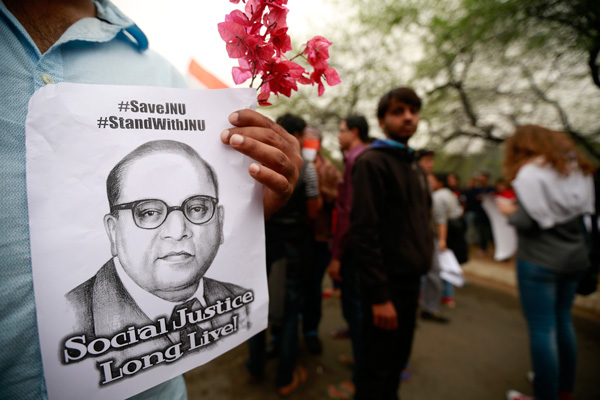 In a writ petition (a copy of which has been accessed by Catch), Kumar has invoked the Supreme Court's writ jurisdiction under Article 32 of the Constitution to contend that his right to a fair trial is being severely jeopardised.
Referring to the violence by lawyers at Patiala House Court premises on 16 and 17 February, Kumar has accused the Delhi Police of "grave dereliction of duty" and said that it has miserably failed to protect his right to life and liberty.

The petition argues that the security granted by the Supreme Court vide its 17 February Order is limited only to the 4 corners of Courtroom Number 4, and states that Kumar's lawyers were "held under siege".

Kanhaiya has stated that this is the reason he is unable to appeal to the Sessions Court against the Metropolitan Magistrate's Order denying him bail.

Asserting that his right to presumption of innocence unless proved guilty in a court of law is sacrosanct, Kanhaiya has claimed that there is a "lynch mob" determined to trample upon this right.

The case will be argued by Soli Sorabjee and Raju Ramachandran. Sorabjee, in a report in The Indian Express, has slammed the sedition charge as "deplorable".
According to the law laid down by the Supreme Court, one could be booked for sedition only if his words or gestures lead to violence or the commission of illegal activities.

BS Bassi, who heads the Delhi Police, has been forced on the back foot. He has gone on record saying that his department would not oppose the bail plea.

The Supreme Court has expressed alarm at the mayhem which ensued at Patiala House Court premises. Whether the court extends the same concern to Kanhaiya remains to be seen.
Also read: BJP goes national against JNU 'anti-nationals'. Will the fire spread?
The march
Highlights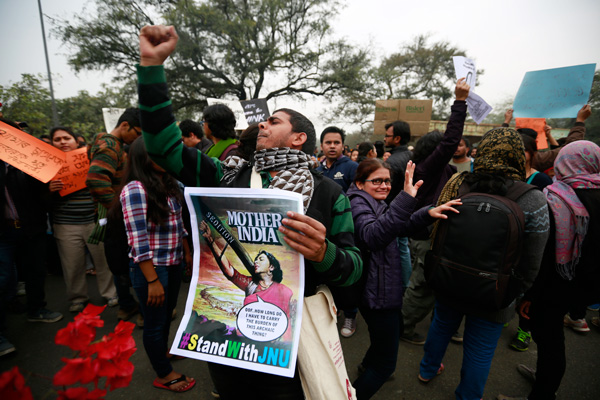 Over 10,000 people marched from Mandi House to Jantar Mantar demanding Kumar's release.
They also demanded that the media trial against Umar Khalid and other JNU students accused in the case needs to stop.
Over 10,000 people marched from Mandi House to Jantar Mantar demanding Kumar's release.
The march was full of Rohith Vemula posters, which underlines the iconic status the deceased Dalit scholar has come to occupy.

The march represented a show of Left unity, with AISA, SFI, AISF, DSF and DYFI coming together. The last time the Left came together in such a way was in protesting against the Indo-US Nuclear Deal.

Congress' student wing NSUI joined hands with the Left outfits for the march.

Not just student outfits, activists, academics, artists and queer groups also took part in the march.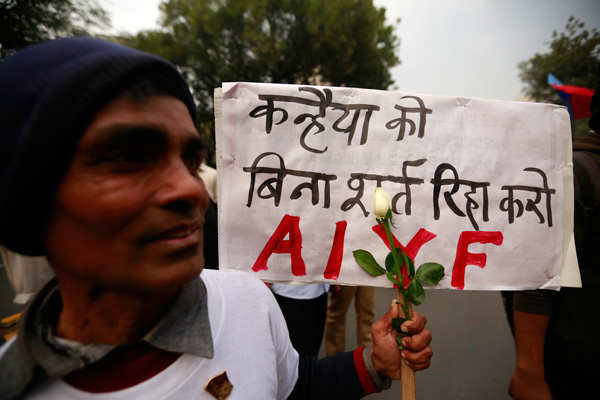 Interestingly, many waved tricolours at the march, which is uncommon for Left outfits. Perhaps it was the Left's way of responding to the "anti-national" charge.

When Saurabh Sharma, the only JNUSU officer bearer from ABVP, approached the protestors in JNU, some students handed him flowers and requested him to "end the hatred".

The response to the match within JNU was such that the organisers - JNUSU and JNUTA - fell short of buses to transport them from the university to Mandi House. When the buses fell short, NSUI members chipped in and offered to send more transport, such was the camaraderie.
Also read: #JNURow: Arnab and the art of manufacturing nationalist outrage
Who said what
"These young people from JNU, DU, Jamia, HCU, BHU are fighting a much larger battle than just one arrest.. All the mischief that has happened is a response to the growing movement around the death of Rohith Vemula. Today, you have this fake, fraudulent anti-national debate that goes to the realm of criminal intimidation and violence. One wonders whether it is a coincidence that just as that movement was growing across campuses, a very disruptive situation has emerged....It will not be the Congress or the Left that demolishes the BJP but Mr Modi himself " - P Sainath
It won't be Congress or Left that demolishes BJP, but Narenda Modi himself, says P Sainath
"What we are witnessing is the beginning of a broad based student movement. A protest which has potential of going beyond JNU. It comes in the wake of what happened in Hyderabad Central University and Allahabad University...The government is caught in a dilemma, if they back down on something they have turned into a battle of prestige, it will be seen as a defeat. At the same time, if they do not back out, then the movement will gather momentum." - Yogendra Yadav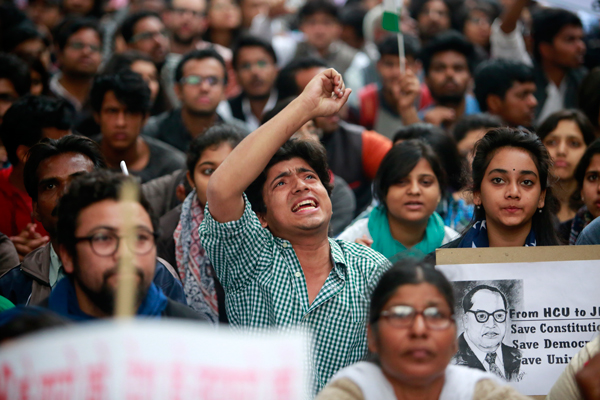 "We are against the curbing of debates and discussions in universities. Universities must have an open space for discussion and dissent that should be challenged by ideas and not lathis." - Anuradha Kapur, former director, National School of Drama

We demand that the cases and suspensions against all the students, including Umar Khalid, be withdrawn. Then the university's own legitimate internal processes must be allowed to ascertain the facts." - Surajit Mazumdar, JNUTA member, who teaches economics at JNU.

"We strongly condemn the way some lawyers have attacked students, teachers and journalists. Some of them have been ex-criminals. Kanhaiya has been arrested in a false case. We demand they release him. This is the murder of constitutional values." Ashok Agarwal, former Delhi President, All India Lawyers Union
Also read - It's not about him alone: How Kanhaiya's poor parents put things in perspective
Paswan speaks out
Not just Opposition parties like the Left, Congress, BSP and AAP, even BJP's own MP Shatrughan Sinha slammed the witch-hunts being carried out by the central government.
On Thursday one of BJP's main allies, union minister Ram Vilas appeared to criticise the government's excesses in the JNU case.

Paswan said that there was a need for students to debate in universities, under the framework of constitution. He praised JNU for having produced great thinkers and called Kanhaiya Kumar a "son of Bihar."

Clearly, Paswan, a Union Minister, isn't convinced with the sedition case against Kumar.
Inputs by Suhas Munshi
Edited by Aditya Menon