Burhan Wani, poster boy of Kashmir's new militancy, killed in encounter
The Jammu and Kashmir police achieved a "huge success" on Friday by killing the 21-year old Burhan Wani, the most wanted Hizbul Mujahideen commander in south Kashmir.
He was gunned down in an encounter in Kokernag in Anantnag district in the evening.
"It was a successful intelligence driven operation by Jammu and Kashmir Police," a top police officer confirmed to Catch.
Also read:5 things happening in the Valley after Burhan Wani's death
The top officer said that the J&K Police was very close to "eliminating Burhan at least 10 times" in the past but "we feared civilian casualties".
"We knew we will get him one day. He had unnecessarily become a youth icon. He was threatening a professional and organised police force like J&K Police. We could not remain silent. Now people know that the fame was momentary," he said, adding that "it was a waste of a young life.. this romanticism [for militancy] only ends up in the graveyard."
Burhan was killed along with two more militants, one of them identified as Sartaj Ahmad alias Abu Ukasa. It is believed that Sartaj had returned from Pakistan after a gap of 17 years under the government's rehabilitation policy.
Meanwhile, firebrand pro-Pakistan leader Syed Ali Shah Geelani has called for a Kashmir Bandh on Saturday "to mourn Burhan's killing". JKLF's Yasin Malik and Asiya Andrabi of the Dukhtaran-e-Millat have supported Geelani's call.
Also read - Hizbul Mujahideen top commander Burhan Muzaffar Wani killed in J&K: Report
"The nation of Kashmir is indebted to these great young souls and we pray to Allah almighty to accept their sacrifices," Malik said in his statement.
Hurriyat leader Mirwaiz Umar Farooq tweeted:
As we mourn our beloved young martyr Burhan We salute his sacrifice and redouble our resolve, complete strike to be observed tomorrow in J&K

— Mirwaiz Umar Farooq (@MirwaizKashmir) July 8, 2016
Funeral Prayers in absentia for Shaheed Burhan will be offered at Jamia Masjid tomorrow at 1.30 after Zuhr Prayers Martyrs you live forever!

— Mirwaiz Umar Farooq (@MirwaizKashmir) July 8, 2016
Police sources said that bodies of the slain militants were taken to Kokernag Police Station.
The rise of Burhan Wani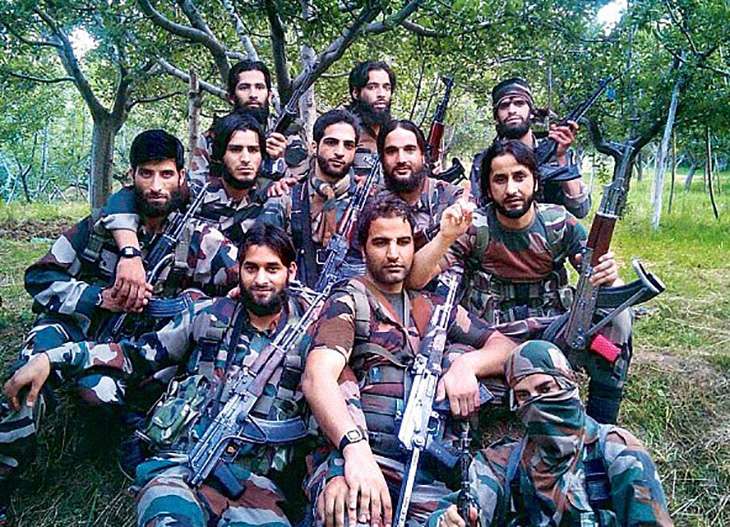 Social media
Burhan rose to prominence in a short span of time and emerged as the poster boy of Kashmir's new age militancy. He would often talk about contemporary issues through his video statements,
Young protesters would often carry Burhan's posters and placards with his messages and pictures on Fridays outside Srinagar's historic Jama Masjid.
His pictures with other gun-wielding Kashmiri youths were posted on Facebook and Twitter last year.​
In one of his latest video messages released last month, the slain Hizb commander vociferously criticised the state government's proposal to construct Sainik Colonies for former soldiers and setting up transit accommodations for migrant Kashmiri Pandits. However, he had welcomed the homecoming of migrant Pandits.
"The Hindus of this place, who reside outside, can come to their homes and stay here. If they stay at places where they have their homes and their land, we will be their guards...But these separate Israeli-type colonies, this is an Indian conspiracy against us. We will act against them [separate Pandit colonies]," Burhan had said in a six-minute video message which went viral.
He also urged the local police personnel to join militant ranks.
"Don't harass the youth or erect check-posts on roads...India is our real enemy and it wants to pit us against each other...I advise you to turn the barrel of your guns and join the movement for Kashmir's freedom...," he said.
He also warned police of more attacks but ensured a safe Amarnath Yatra.
"Recently a BSF officer has said that we are planning to attack the Amarnath Yatra. This is a lie...We will not attack [the Amarnath Yatra]. They (pilgrims) come here to perform religious rituals and we are not against them," he said.
Public response
Protests are being planned across Kashmir, especially at Burhan's hometown Tral.
"People are on the roads everywhere in Tral. Announcements are being made from mosques that Burhan has been martyred. They are being requested to assemble for a protest," Aijaz, a resident of Tral told Catch. .
Other reports pouring in from Anantnag, Pulwama, Pampore and Shopian also suggest that people are marching towards Tral.
Normally, thousands of people participate in the funerals of even comparatively lower level militants. The numbers are expected to be much larger in the case of Burhan, which why the authorities are likely to impose severe restrictions in south Kashmir.
The protests led to clashes between the protestors and the police at various places. One youth was was reportedly hit by teargas in Janglat Mandi in Anantnag. The authorities likely to block the 2G/3G data services in south Kashmir, as massive protests are going on in Dialgam, Khanabal, Qaimoh and other areas of Anantnag district. Protests have also been reported from Bijbehara at the National Highway.
Curfew imposed
Authorities decided to clamp curfew in old Srinagar city and Pulwama district on Saturday to "quell protests in wake of Burhan's killing. Deputy Commissioner Srinagar Dr Farooq Ahmed Lone told a local news gathering agency, CNS, that curfew will remain in force in six police stations of old Srinagar including MR Ganj, Safakadal, Khanyar, Rainawari, Zadibal and Nowhatta.
Deputy commissioner Pulwama, Muneeb-ul-Islam, told CNS that strict curfew will be imposed in entire Pulwama district on Saturday.
Background
Burhan Muzaffar Wani took up militancy in 2010, when he was in Class 10. He was the son of Muzaffar Wani, who serves as a principal in a Government school in Tral in South Kashmir.
He became Hizb-ul-Mujahideen's local commander in south Kashmir.
In May this year, Burhan's father told this writer at his home in Tral that he grew up as a normal teenager who was not regular in his prayers.
According to his father, Burhan loved cricket. "My son was fond of cleanliness. He would regularly apply gel on his hair to make a style of his choice. He would take bath twice a day in summers. And if there was no mutton or chicken dish cooked at home, he wouldn't eat," Muzaffar Wani said.
Burhan's brother Khalid Wani was allegedly humiliated and severely beaten by soldiers of the J&K Police's Special Operations Group in Tral, which angered Burhan.
Burhan, Khalid and their common friend were on a motorcycle when they were stopped at a checkpost by SOG personnel and ordered to buy cigarettes for them. Later, Khalid was allegedly beaten. On seeing this, Burhan was supposed to have said that "now, I'll not spare you".
Khalid was killed last year by security forces when he had allegedly gone to meet Burhan in Tral forests along with other friends.
"My son Khalid was not a militant. Yet he was mercilessly killed by police," Muzaffar Wani said.
More in Catch - Cop out: why are policemen fleeing to join militants in Kashmir?
Young & restless: new breed of militants in Kashmir are eager to change the status quo