Young & restless: new breed of militants in Kashmir are eager to change the status quo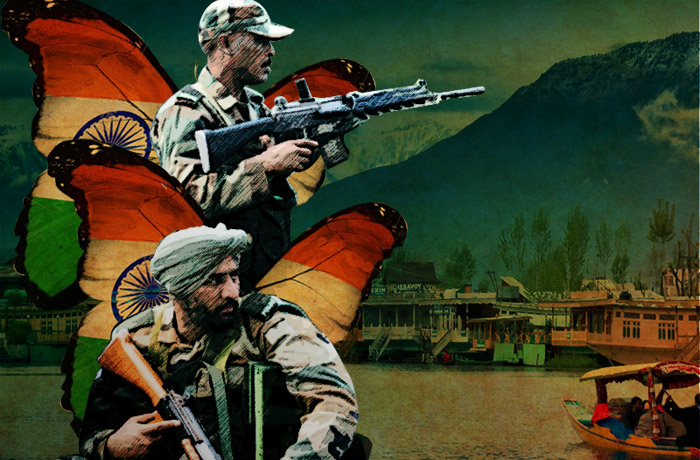 Rising militancy
Towns in south Kashmir are fast becoming established spots for militancy
In 2015 alone there were 62 new recruits
Many youngsters have been easily drawn in. More have died
The fallout
Every time militants are killed there\'s a shutdown
Security in south Kashmir is walking a dicey rope
The militants draw strength locally and the problem is not foreign
More in the story
Why are youngsters drawn to pick up the gun?
How have politicians failed them?
Soon after the eruption of a popular anti-India armed rebellion in the late 1980s in Jammu and Kashmir, north Kashmir's Sopore town earned sobriquets like 'Chota Pakistan' and 'militant hotbed'. Two-and-a-half decades later, towns like Tral in south Kashmir, are now being considered as fortresses of Kashmir's renewed militancy.
Spontaneous shutdowns and massive funerals of the slain local Kashmiri militants have become a new normal in south Kashmir districts of Pulwama, Shopian, Kulgam and Anantnag.
Also read - Cop out: why are policemen fleeing to join militants in Kashmir?
Ironically, South Kashmir is also considered the Peoples Democratic Party's bastion. So then, what has changed in this part of the State that people are referring to it as the hub of Kashmir's new age militancy?
'Local militants are our heroes'
On 7 March, thousands of people gathered in Kaimoh village in Kulgam district, some 45 miles from the summer capital Srinagar, to participate in the funeral prayers for Dawood Ahmad Sheikh.
Sheikh was a local militant bearing allegiance to Hizb-ul-Mujahideen, Kashmir's largest indigenous guerrilla outfit. He was listed as 'A++ Most Wanted' militant in police records.
Police claimed to have killed Sheikh in a brief gunfight with government forces in Buchroo village of Kulgam. His killing was termed a "major success" and Kashmir's Inspector General of Police Syed Javid Mujtaba Gilani gave credit to the "robust intelligence grid" and "stronger informer base" to "neutralise" him.
In his early 20s, Dawood Sheikh had joined the ranks of Hizb only in 2013 when he was a Class XII student. He was considered a close confidante of Burhan Wani, a local Hizb commander who has emerged as the poster boy of transformed militancy for some time now.
Both Dawood Sheikh and Burhan Wani were seen together in many photos and videos, sporting AK-47 rifles, circulated on social media last year. Their pictures and videos had gone viral.
Sheikh isn't the only local boy to have join the ranks of militants in the last two years or so.
A senior police officer told Catch that in 2015 alone, "there were 62 new recruits and 10 recycled." Most of them joined the Hizb. The police use the term "recycle" for those who rejoin the guerrilla ranks after giving up militancy.
"Since January 2016, at least 11 more have joined the militant ranks, mostly in south Kashmir," he added.
The officer puts the total number of militants active in the Kashmir valley at around 150. 80 of them in south Kashmir.
Like Sheikh, another young boy from Tral Ishaq Parray alias 'Newton', aged 19 then, had joined the Hizb. 'Newton' became an active militant around the same time when Mufti Mohammad Sayeed took oath as Jammu and Kashmir's Chief Minister, after forging an alliance with the antithetical Bharatiya Janata Party (BJP) in March 2015.
Random shutdowns, massive funerals and rising militancy in south Kashmir are becoming the new normal
The teenaged Parray earned his special nickname 'Newton' for his brilliant academic performances. According to people and friends who knew 'Ishaq Newton' as a meritorious boy in the locality, he was a very shy boy who would rarely look directly into the eyes of his elders. He's also said to have been a voracious reader. His mother Rahiti Begum, said that her son had an unambiguous understanding of religion. He was far ahead of his age.
"The entire town of Tral observed a complete shutdown on 3 March to protest the killing of three local militants. They are our heroes," a local resident told Catch after attending Ishaq Parray's funeral.
"People in thousands assembled in Laribal and Dadsara areas of Tral to give a farewell to our local heroes. We salute their martyrdom," he said.
Jamaat-e-Islami (JeI), Kashmir's prominent socio-religious group with a strong cadre base across Kashmir, in a statement issued to the press paid "glowing tributes" to the militant trio and said that the "three local militants from Tral achieved martyrdom yesterday."
Also read - Facebook recruits: what this disturbing picture of militants in Kashmir means
What is this new age militancy all about?
Young Burhan Wani has become the poster boy of this rising mlitancy? But why? And why are young boys in his neighbourhood joining the brigade?
Is it the anger of the dispossessed? Deep rooted anti-India alienation in the restive valley? Desire for freedom and the will to alter the political status quo? Absence of political will to resolve Kashmir? Frustration? Lack of employment opportunities? Manifestation of religious and intellectual radicalisation and the trend of global 'jihad'? Or a bit of everything?
One of Kashmir's seasoned political editors with experience covering the Kashmir conflict from ground zero since 2002, told Catch that it is the political status quo in Kashmir which forces today's youth in Kashmir to get attracted towards the gun.
Locals in south Kashmir refer to the local militants as their heroes and their support base is strong
"After all the hyperbolic talk about Kashmir-centric CBMs and the four-point formula, the truth is that nothing has changed in Kashmir. Mainstream politicians as well as the moderate factions of the resistance alliance have tried and failed. Today's youth wants to make a difference by taking the initiative," he said.
"The new breed of militants think that the only means to alter the status quo in Kashmir is the gun, the return to an armed movement. That is why they want to fight," he added.
The new normal
Let us face a simple fact: fierce gunfights between local militants and government forces are a new routine in Pulwama, Shopian and Anantnag districts of south Kashmir.
The boys taking part in the deadly encounters are mostly locals. Some in their teens while others in the their early 20s. Some of them belong to families with reasonable socio-economic status.
This new trend of Kashmir's young and educated boys, hailing from different areas of south Kashmir, joining the ranks of guerrillas is a "matter of grave concern" for the security grid as well as the region's political establishment.
The Srinagar based head priest Mirwaiz Umar Farooq, who also heads a faction of the APHC, blames the Indian government for choking all spaces for democratic dissent in Kashmir.
The octogenarian Hurriyat leader Syed Ali Geelani believes that the government has hardly left any option for the youth to express their political aspiration.
The political status quo in Kashmir is one of the main reasons the youth in Kashmir get attracted towards guns
"Literally, our youth are left with no option. Opting for the gun is not a choice. It is a compulsion for our youth," Geelani said.
Top police officers with decades of experience in counter-insurgency operations confess that the new brand of militancy is more focused than before and that it is independent of Pakistan's support.
"This [the renewed militancy] is worrisome. Not for the Indian government or J&K police. It is worrisome for Kashmir's society. The new age militants are ideologically driven," a top police officer told Catch.
"They [the militants] do not get any assistance from Pakistan. They derive main strengths from religion and global jihad. They act independently," he said.
The top cop even drew some parallels with ISIS.
"You'll not find a single secular minded militant in south Kashmir. They're religiously radicalised and attracted to global jihad," the officer argued.
Why do these militants enjoy tremendous support from locals?
"See, this support is but natural. A local militant will enjoy some sort of support in his area of influence. But it is temporary in nature," he reasoned.
"Together, we have to build a counter narrative to defeat this worrying trend. The problem is when you attempt to do so in Kashmir, you're brandished as pro-India," he said.
The officer added that hundreds of others are waiting in line to become militants.
"Militancy is a state of mind. If you make weapons available to them, they'll not decline the offer. They're determined, highly motivated and obsessed," he said.
How do local educated boys from well-off families get attracted to this life?
There are two critical factors, the officer said.
"The internet is playing a huge role. Two, there is this greed for martyrdom," he said.
However, in absence of any empirical study it is difficult to assess whether linking local militancy to global jihad would be a fair analysis.
The new breed of militants are young, educated and restless to change the status quo, They're unwilling to wait
For some time now, many analysts in Kashmir have been articulating that the new militancy is "tech-savvy and smarter than before" and also "harmless" to people in many ways. That is perhaps why they enjoy tremendous local support.
Ejaz Ahmad, a local resident of Tral, told Catch that "people support militants because they are fighting for Kashmir's freedom."
"These are our own boys. Our heroes. They are educated. They are not from poor and marginalised sections of the society. They know what they are doing," Ahmad added.
People's colossal support to militants has frustrated the security apparatus in Jammu and Kashmir. So much so, that the J&K police recently issued an advisory.
"Civilians residing within the radius of two kilometres of an encounter site should stay inside their homes and make sure their children are indoors too," an advisory issued by the Jammu and Kashmir police on 19 February said.
A police spokesperson said that "assembly of five or more people be discouraged as it is prohibited under the provisions of this Section [144 of CrPC]."
The advisory also asked people not to "venture out as any stray bullet can hit and cause damage."
Real challenge is not foreign, but local
On February 20, a group of militants after attacking a CRPF convoy in south Kashmir's Pampore area, took refuge in a government EDI building nearby and engaged government forces in a gun battle for over 48 hours.
At least nine persons, including two captains of the Indian army and two CRPF men, three militants and a civilian, were killed in the encounter.
As the gun battle was on, scores of people from adjacent areas had gathered on the banks of Jhelum to protest and raise pro-freedom slogans. Even songs eulogising militants were played on the loudspeakers in several mosques, apparently to help militants keep their morale high and going. Women sang songs in groups to extol militants.
The security agencies refused to handover the bodies of the militatns to the local people, fearing huge presence of people in their funerals. Instead, they had a quiet burial.
But that was possible because the rebels were not locals, which was not the case in the latest encounter in Tral.
But the major challenge in south Kashmir is not thrown by the foreign militants. It is the local boys.
Independent of Pakistan, these new age militants derive strength from religion and global jihad
"During our intelligence gathering we have found that even over ground workers (OGWs) of the Hurriyat are in touch with the militants. They offer them moral support and financial assistance," he said.
After every killing in the encounter, people in these districts suspend their business for days together according to a local news gathering agency CNS.
Both factions of the pro-resolution alliance All Parties Hurriyat Conference (APHC) issue fiery statements to pay glowing tributes to the boys lost in the conflict. The socio-religious organisations take a pledge to "take the freedom struggle to its logical end."
The security agencies reward their killed soldiers posthumously. For them, the soldiers are the "martyrs".
Local support for the militants has made the security apparatus in J&K shaky
For the locals, the slain militants are the "martyrs".
In this "terrorist-martyr and occupier-martyr" narrative, the killings and sufferings continue unabated for both sides.
For a Kashmiri youth, attraction to militancy is romantic idealism. In the absence of any credible consultation process, Kashmir's youth are angrier than ever before.
Meanwhile, Kashmir is perhaps missing a credible leadership to channelise the anger of the dispossessed.
Edited by Anna Verghese
More in Catch - Between the firing lines: this stunning graphic novel on Kashmir is a must-read
Can football herald peace in strife-torn Kashmir?