Facebook recruits: what this disturbing picture of militants in Kashmir means
Catch Team
| Updated on: 13 February 2017, 3:16 IST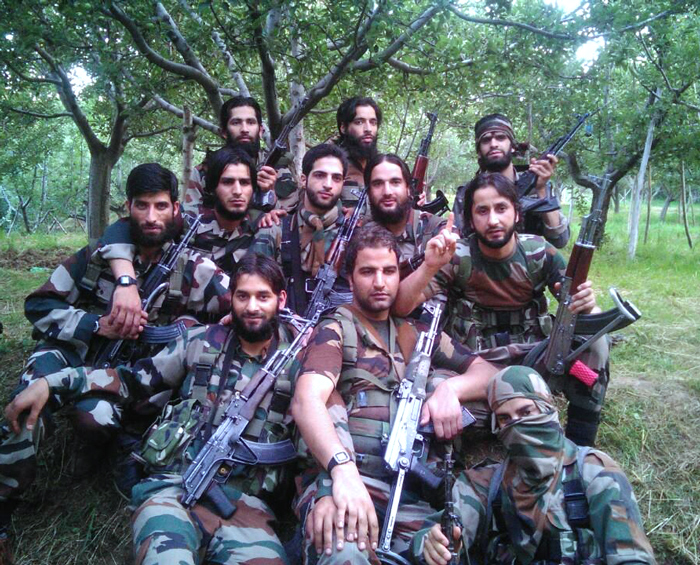 The picture
Pix on Facebook: 11 young militants in army fatigues, sitting in an orchard in South Kashmir, holding AK47s.
None of the men have their faces covered.
Some versions of the picture have each of their names displayed.
One was a constable assigned to a J&K minister till the end of March 2015.
Another was a boy beaten at a checkpost during a random search.
The significance
This is the first time since the violent 1990s that such pictures have emerged - that too without masks.
It seems an attempt to romanticise militancy and amp up recruitment.
There seems to be an attempt to goad or taunt the security establishment.
Unanswered questions
Why would these men risk the wrath of agencies against their families by unmasking their faces?
Who really posted these pictures?
The reception
The images have gone viral, with thousands of likes and comments in support.
Some comments \'pray for their safety\'; others call them Kashmir\'s real celebrities.
The support would seem to show armed militancy still has a pull for Kashmiri youth.
Disillusionment with the Indian establishment has apparently risen since last year\'s floods.
There are 11 of them in army fatigues, sitting side by side on the slope of an orchard somewhere in South Kashmir. Kalashnikovs hang loosely off their shoulders or are held in firing position.
Striking a deliberate pose, the youngsters face the camera with an uncanny calmness. Some even have a hint of a smile on their lips. And they have apparently boldly posted their picture on Facebook.
The image has circulated fast on social media and mobile phones, building a pro-militancy conversation.
It confronts the security establishment with an impossible task - of removing the picture and preventing its overpowering appeal to a new generation already showing signs of alienation from New Delhi.
Deja vu
No one knows who has put pictures like these on Facebook and whether all the youngsters shown are indeed militants.
If they are, then this would be the first time since the violent 1990s that the so-called militants have released their pictures.
What is disturbing is the brazenness of the act. Unlike the 1990s, when militants generally used to cover their faces, this bunch has no masks on. This, some claim, has only enhanced the pull of the image.
Some pictures even carry a name beside the face of every militant, making them easily identifiable to the people and the police alike.
This is also rather strange as it endangers not only those in the pictures but also their families. Why would these youngsters invite the security agencies to target them and their near and dear ones?
It has circulated fast, building a pro-militancy conversation among a new generation alienated from New Delhi
While the ordinary Kashmiri may be puzzled by the pictures, not so the members of the security establishment. They see the pictures as a deliberate attempt to draw fresh recruits to the cause of armed militancy.
"The pictures are authentic," declared a senior police officer. "They have in them some boys who had gone missing recently."
The new wave of militants
Among those in the pictures is one Naseer Ahmad Pandit, a police constable who, until 29 March, was posted as a security guard with the J&K Public Works Minister, Syed Altaf Bukhari. He had decamped with two rifles.
At the centre of the group is one Burhan Muzaffar Wani, 22, their commander. He had joined Hizbul Mujahideen when he was 17 after being beaten up at a roadside army camp while running an errand for his family.
"He was furious. He wondered why he was beaten up when he had done no wrong," recalls grey-bearded Haji Ghulam Muhammad Wani, his grandfather. "Now that he has become a militant for a right cause, we stand by him."
Burhan's younger brother Khalid Muzaffar Wani, who was not a militant, was recently killed by the security forces following an alleged gun battle with militants in a forest where Khalid was said to have gone to meet his militant brother.
Stories like these have constructed a cult around Burhan Muzaffar - which only grows with stories of his narrow escapes and the intermittent ambushes against security personnel attributed to his group. It is this myth-making which has drawn a steady trickle of recruits to militancy.
Growing out of the hubs
According to a police estimate, around 32 local youngsters have joined militant ranks this year. In 2014, according to an Army assessment, around 70 local young men had joined the militancy, the highest in the last few years. Most of them joined Lashkar-e-Tayyeba. A year earlier, 63 militants, 61 security forces personnel and 15 civilians were killed in militancy-related incidents in Kashmir.
However, so far, this recruitment has remained confined to the Valley's known militant strongholds like Sopore, Tral, Pulwama and Shopian.
"There are reports that the militants have expanded their base outwards from these hubs," claimed a police officer who has directly handled counter-insurgency in some of these areas.
"The situation could dramatically change if the recruits receive a substantial backing from Pakistan, which so far is missing."
Security sources claim that a decline in infiltration due to border fencing has made it difficult to smuggle arms into the state in large quantities. As a result, the new recruits have often have to get their own Kalashnikovs, as the absconding constable Naseer did.
Last month alone, there were three cases of rifle snatching from policemen in South Kashmir. The modus operandi is that the militants shoot at a cop and then decamp with his gun.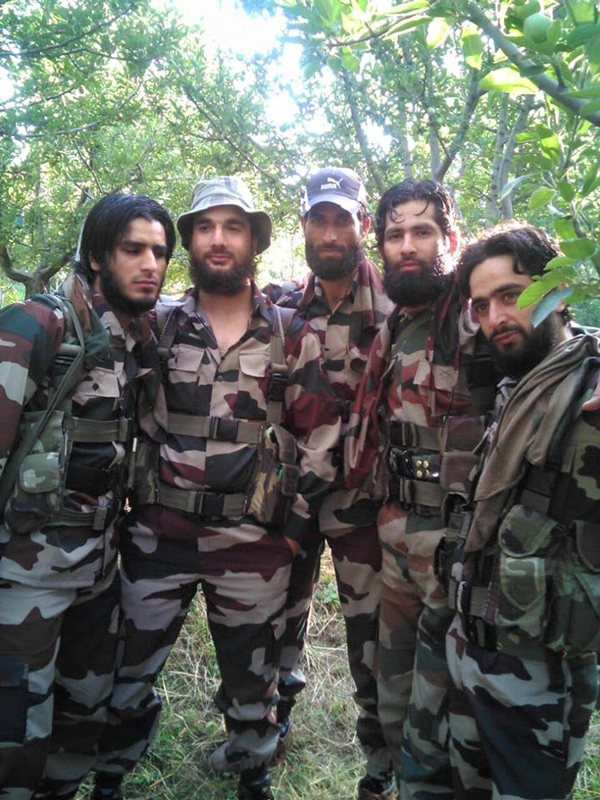 Social media revolution
Though this is far from making the new militancy a formidable challenge for the state government, the discourse that this band of militants is generating is troublesome. The Facebook page on Burhan Muzaffar, for example, has attracted 1,516 likes.
The page also extols the merits of jihad and martyrdom. "We drink the intoxicating drink of Shahaada (martyrdom). This living is not living," reads a post.
"We live by having our heads cut off. We are not repressed by falsehood, this is our Eemaan (faith)" says another.
The page 'Lovers of Rizwan Bhai', which first uploaded the viral picture and which has since been removed, makes similar exhortations. "I don't want a teenage queen; just give me a rifle, AK47. If I die in the battle zone, box me up and send me home," reads a post. Another one reads: "Put my rifle on my chest. Tell my mother I did my best. Say (sic) my nation not to cry. I am a Mujahideen born to die."
Such posts attract scores of likes and sometimes a long thread of favourable comments. The thread that followed the group picture had fawning admirers pray for the safety of the militants. "Allah inko apni hifazat mein rakhna (Please God protect them)," read a post. "Real celebrities of Kashmir," read another.
Facebook "likes" and anonymous sympathetic comments do not mean that youngsters are joining militancy. They could come from any part of the world and their sole purpose seems to be to show that armed militancy still has a pull for Kashmiri youth.
What is significant is that this is happening in an environment of the rising frequency of Pakistani and ISIS flags being waved in downtown Srinagar. However, the security agencies have played down such occurrences.
They see them more as a reaction to the shrill chorus in some sections of the national media over the display of Pakistan flags at Syed Ali Shah Geelani's rally at the Hurriyat Chowk in March. This has led to his confidante Masarat Alam's re-arrest following a contentious release, a month earlier.
Political failure
If the PDP-BJP coalition was expected to act as an antidote to the growing disaffection among the people, it has so far singularly failed to be so - especially after the devastating September deluge which affected Srinagar and swathes of North and South Kashmir.
The expected generous rehabilitation by the Centre has not come and whatever has been sanctioned has been delivered in bits and pieces.
"It took the Centre ten months to announce a Rs 1,667 crore reconstruction package for what was a colossal tragedy by any measure. This money isn't sufficient even to clear the rubble from the flooded homes," says Fayaz Punjabi, an executive member of Kashmir Chambers of Commerce and Industry.
"Thousands have lost homes and businesses. The deep sense of bias towards Kashmir being now exhibited in New Delhi is creating a fraught situation which can push the Valley to the brink again."
This is still a discourse of citizens making reasonable demands on the state. It leaves a disturbing question unanswered. Why would a bunch of youngsters in battle fatigues openly claim that they are militants - almost daring the security forces to come and get them? That is an invitation for a confrontation - challenging the security establishment in Kashmir.
Could it be that some misguided youngsters took some pictures and someone else put them up? Whoever it is, that person or agency is clearly not a friend of the Kashmiris and wants to provoke a confrontation.