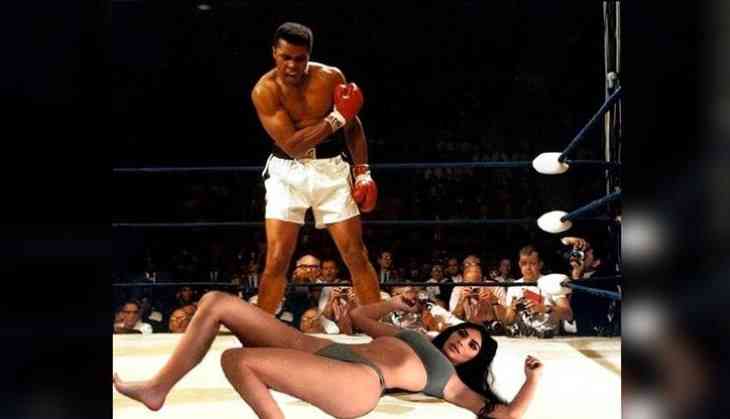 Kim Kardashian West's viral meme featuring a pair of Yeezy sneakers has left Twitterati ROFL-ing. Kim's pose and expression is awkward.

American television personality Kim Kardashian West's photoshoots often catch people's attention, for obvious reasons. Back in 2016, the 37-year-old socialite broke the Internet with her controversial nude pictures that appeared in the Paper magazine. This time, it's a photoshoot she did for her husband Kanye West's clothing brand.
Like butter. #Butter350's #Yeezy pic.twitter.com/xOf0CU0hTC

— Kim Kardashian West (@KimKardashian) August 6, 2018
It did not take Twitterati much time to come up with creative memes with the picture. Here are some of the funniest memes that are sure to leave you ROFL-ing!
😂😂😂😂😂😂 pic.twitter.com/8jBm3MTB8v

— Dada💥 (@dadaland) August 7, 2018
Watch this .... I'm dying 😂😂😂😂 pic.twitter.com/jYrvAM5n2X

— WAKANDA💪🔥 (@Some_Samira) August 7, 2018
August 6, 2018
August 7, 2018
Omg this looks like when Peter rolled on Lois while they were sleeping pic.twitter.com/MEMC8YelsX

— eddie (@eddiebruh12) August 7, 2018
#LikeButter #Yeezy #Kardashian pic.twitter.com/E8U2LvN6C1

— VisuallyBetter (@Isuckatpicking) August 7, 2018
She shared a picture from the shoot on Twitter. The picture shows Kardashian lying on a bed modelling with a pair of Yeezy sneakers. However, people seemed to notice not the shoes, but the socialite's pose and her blank expression. The tweet received over five thousand retweets and over 60 thousand likes at the time of writing.
Also Read: Kylie Jenner frisk on the bed in her underwear in sizzling Instagram photos