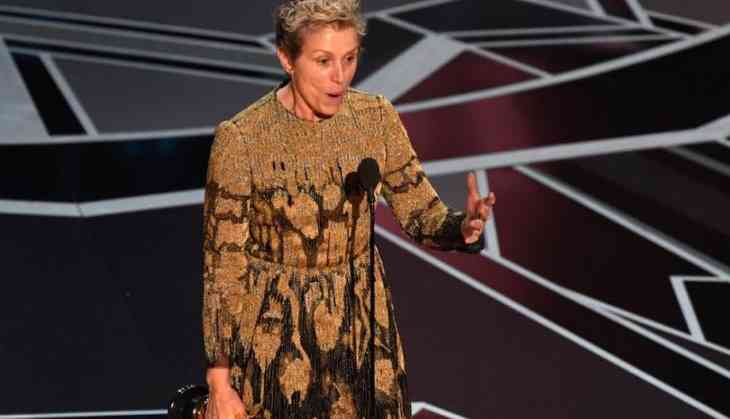 This year's best actress Oscar winner Frances McDormand's trophy was briefly stolen at the official after-party, following which a man suspected of stealing it was arrested.

The "Three Billboards Outside Ebbing, Missouri" actress was at the party getting her Oscar engraved. But later, the 60-year-old realised the trophy was missing.

Terrence "Terry" Bryant Jr, 47, was arrested late on Sunday night for the alleged crime, and booked early Monday morning. He was charged with grand theft and police set a bail of $20,000, according to the Los Angeles Police Department, reported ABC News.
Also Read: Oscars 2018: Gal Gadot steals the show with Tiffany's neckpiece
The police said in a statement: "The incident occurred as Bryant was exiting The Governors Ball. He was photographed holding an Oscar. The photographer did not recognize Bryant as a recipient from the awards show and believed he was in possession of a trophy which did not belong to him.

"The photographer followed Bryant and without any resistance from Bryant took the Oscar from him. Security at the event was notified and detained Bryant. The Oscar was returned to the recipient."

According to guardian.com, the suspect even boasted about the Oscar on Facebook.
Also Read: Chef Wolfgang Puck's Oscar feast
"Sup babies, look, my team got this tonight. Who wants to tell me congratulations?" Bryant, dressed in a tuxedo, said in a video posted on Facebook. "This is mine. We got it tonight, baby!"

After McDormand was reunited with her trophy, the Academy of Motion Picture Arts and Sciences expressed relief.

"Best Actress winner Frances McDormand and her Oscar were happily reunited after a brief separation at last night's Governors Ball. The alleged thief was quickly apprehended by a photographer and members of our fast-acting Academy and security teams," read a statement.