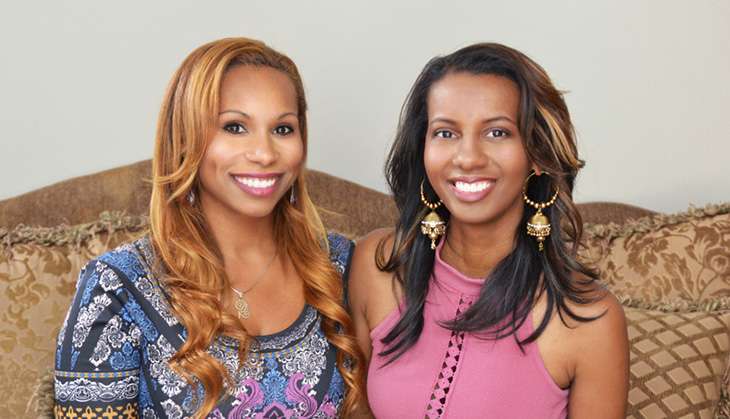 Diversity. Inclusiveness. Tolerance. How do you get a child to grasp the meaning of these important concepts?
In a world reeling from terror, suspicion and conflict; in a world that is so globalised we all must interact with different kinds of people; in a world threatened by fundamentalist ideas, the one hope we have left is to make our children r espect differences in others and embrace differences in themselves.
And that's precisely what New Jersey-based business and life-partners Cheril N. Clarke and Monica Bey-Clarke are attempting with their publishing venture for children's books called My Family! Products. A subsidiary of their publishing company Dodi Press, My Family! Products' goal, according to the official website, is to create a "multi-cultural, positive and affirming library of children's books that feature LGBT families."
One of their protagonist s , Keesha, is your average 7-year-old, brimming with enthusiasm and curiosity in equal measure. Instead of the standard mom and dad parentage though, Keesha has two moms - Momma and Mommy.
My Family! Products will be releasing a new Keesha book before the year ends, called Keesha's South African Adventure "which is an exciting story about a little girl who learns about South Africa in school and convinces her two moms to take her there to see it for herself", their website reads.
Catch spoke to Cheril and Monica about their work, Keesha, and non-traditional families :
DS: What, in your opinion, does diversity achieve within what is understood as 'children's literature'?
Clarkes: We feel that diversity in children's literature is a n opportunity to engage more young readers by showcasing characters, who look and live like them but are often not the subjects of mainstream publications. A lso , it benefits children who are used to seeing themselves because it broadens their understanding of other kids who may not look, live or love like them.
It's really about getting a wide variety of positive books in the hands of as many children as possible.
DS: How much have you read into your lives to write Keesha's story?
Clarkes: Not much at all. While we are married and did have a foster child at one point (not as young as Keesha). Keesha's story is completely fiction.
We guess, if you could say anything was inspired directly from us it would be a love of exploration and travel (we're planning to visit Thailand and South Africa next year as well as a few more states here at home; and we spent a couple of weeks in India earlier this year), we're just presenting a depiction of a child who lives in a loving home where having two moms is not an issue at all. It is just a fact.
DS: Referring to Keesha's South African Adventure , I can't help but note that South Africa is an interesting setting. There's a high rate of crime against the LGBT community despite the legal framework there. What made you pick such a location?
Clarkes: We chose this location after doing a lot of research on it for our own plans to travel there. We do know that despite the legal advancements there are still instances of violence toward LGBT people, but we also don't know that will be the case forever.
And we know over a number of LGBT travelers who have visited multiple times (recently) without any issues, albeit without a child, but still. It is our hope that this will one day be a real scenario without the need for extra caution. As a matter of fact, one of our authors is South African and has a non-traditional family there.
Also, the location was chosen because we want to contribute and grow the library of positive images that reflect South Africa. Too often the first image that comes to mind when the country is named is not a beautiful one with dazzling landscapes and culture. The depictions need to be balanced.
DS: Tell us more about the book.
Clarkes: Keesha is a very curious and outspoken little girl. She loves school and just became really fascinated with South Africa after learning about it one day in class. She begs her parents there so she can see it for herself, and get the surprise of a lifetime when they surprise her with a trip! They learn about caves, visit beaches, go on a safari, try South African foods and more.
DS: What are the challenges you've faced in setting up My Family! Products?
Clarkes: In the beginning, we faced challenges with lack of funding to finance our initial vision of the company.
We're 100% independently owned and debt free so choosing that route (as opposed to getting a bank loan or crowd sourcing) slowed us down and threw quite a bit of curve balls at us, but we've restructured over the last year and feel better equipped to publish all the books and other products that we have in our plans.
As far as the content, we haven't had any issues at all. We find that we are setting the tone for our books based on how we present them. There will always be someone who has a negative response to anything LGBT but those people are not our focus. We're only interested in promoting happy, healthy families of all kinds of ethnic and religious backgrounds. We're interested in loving families.
DS: Within the LGBT community, gay visibility is still far more prevalent than lesbian visibility. How does your work help change that?
Clarkes: We hope that our work engages and inspire s women who are lesbian or bi, to share it with their children/nieces and nephews, especially since women of color in particular are twice as likely to have children than white LGBT women.
DS: I looked you up on Twitter and there seems to be a fair amount of voyeurism towards your relationship. Does this affect your work?
Clarkes: Not at all. We're used to it at this point and take it as an opportunity to hopefully inspire others to be their authentic selves.
DS: Where do you plan on taking this project?
Clarkes: As far as we can. This is the second book to highlight Keesha. Those who have read both will notice that we aged her a little bit. This was my (Cheril's) decision because we wanted to write stories with a little more depth so we had to go past the baby to preschool comprehension age.
Now that we have re-established her at this age we're very happy with the possibilities of stories from her. We plan to take the concept of this book and duplicate it into a travel series. Who knows? She may just be in Mexico, Germany, or India next--and it won't be all international travel either. Right now we're fleshing out her next adventure and it will take place right in the United States!
As much as we like to travel abroad, we deeply appreciate all of the beauties that are right here in our own country. We have mountains, deserts, waterfalls, glaciers and so much more right here--all of it being a bit more accessible to children whose families cannot travel far away. We also want to note that you don't have to fly half-way across the world to reap the benefits of meeting new people and exploring new cultures. There's a lot of diversity to be found in the States too. You can start today.