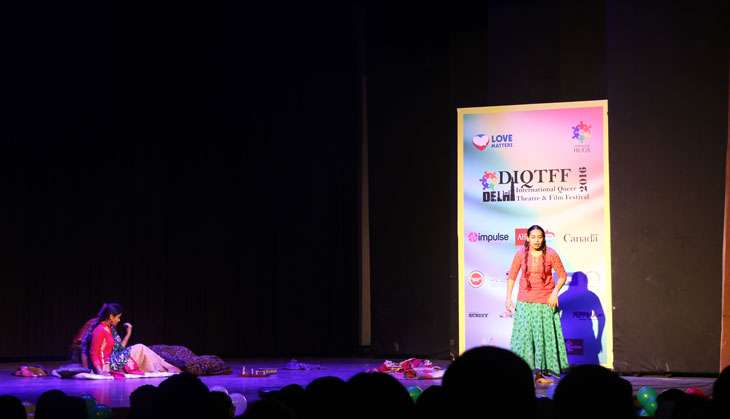 Theatre and film. Two powerful tools known better for their entertainment value, but are equally relevant when it comes to talking about social issues, changes needed in our laws, crimes, human suffering, conflict, differences in culture, views and realities.
To achieve the latter was the intention with which the Delhi International Queer Theatre and Film Festival 2016 (DIQTFF) was held across 10-11 December, exactly three years after the Supreme Court verdict to reinstate IPC Section 377.
One play that stood out among all that were presented on the DIQTFF stage was Asmita Theatre Group's adaptation of Ismat Chughtai's Lihaaf.
Also read - DIQTFF: A Queer film & theatre festival comes to Delhi
Sensitive, when needed
A disturbing tale of sexuality, a lesbian relationship, a patriarchal society, closeted homosexuality, and child abuse, Lihaaf isn't palatable for most audiences. For Asmita Group to then have infused this 'entertainment value' in Chughtai's grim tale infused with dark humour must have been a challenge.
The play's narrator, Shilpi Marwaha spoke to Catch about the delicate handling of child abuse in Chughtai's story. "The remarkable thing about Ismat ji's writing," says Shilpi, "is that despite there being an aspect of abuse, she tells the story of Begum Jan [the abuser] in an unbiased manner."
"It took me a while to understand that," confesses the actor. As for the scene in itself, Shilpi says that as long as the audience found humour in the rest of the play and not that scene, she's satisfied.
"They laughed quite a lot today, but they stopped during the scene where I was getting abused," she says.
Her guru Arvind Gaur, director of the theatre group, beams at his protege. He tells Catch that Shilpi makes the character come to life because of the person she is.
In this interview, Gaur talks about satire, 'Ismat apa', and his admiration for Dario Fo.
DS: What makes Asmita theatre pick up stories like Lihaaf?
AG: Asmita does a lot of street plays and raises questions that people don't often ask - questions from construction workers, farmers, students, people from marginalised communities, adivasis, etc. We've done some of our major plays against communalism, caste oppression, etc.
Theatre for us doesn't just hold an entertaining value, it has socio-political [leanings], it's a way to establish communication and awareness. For us, theatre means theatre for change, awareness, theatre for society and action.
DS: How many times has this play been performed?
AG: Only on this stage. Nobody wants Lihaaf on their stage. Colleges don't give permission and schools don't allow it anyway.
The scene where the narrator is sexually abused. (Photo courtesy Harmless Hugs)
DS: There's a notable difference in the tone of humour with which the play is presented from Chughtai's story, which is a lot more serious...
AG: There is humour in this story, there's satire. When an actor performs the written word as spoken word, there's always a difference. And we don't want to tell a dry story, we want people to listen.
Take Waiting for Godot as an example. We've performed the play and I've seen it many times around the world. In some presentations, it gets very dry, it loses the absurd element. When we did the play we kept in mind that Samuel Beckett intended it to be a satire on our entire existence, and took out the metaphors. We observed that the audience connected with it much better.
I haven't changed the lines or narration from Chughtai, but yes, there's a certain mannerism and style with which the lead actor acts. That's what makes it interesting, and if it isn't interesting, people wouldn't appreciate it.
DS: Does the message of the play get carried out in all the laughter and clapping?
AG: Yes, the message absolutely does reach the audience. We have done this play called Court Martial about casteism. The words used in the play have parallel hidden meanings and when caught [one realises] that we too live very satirical lives. If we were to observe ourselves from the outside we'd probably be laughing at ourselves.
To catch life at these moments [is an art] that Dario Fo and Franca Rame understood very well. At first, their audience would feel like they're watching humour, but it stays with them. [In Chughtai's story] the girl narrates what she sees, her intention isn't to make the audience laugh, but they do anyway.
This is a very interesting form of storytelling where there's subtext in the humour.
Also read - Intolerance in education? Rajasthan edu board to remove works of Chughtai from curriculum
DS: But since this is an adaptation, you could've taken the story forward from Chughtai's time? Perhaps re-invented the age-old Fire/Lihaaf narrative of lonely women seeking sexual pleasure from each other?
AG: At the time Ismat apa wrote this, it was a huge deal to even raise the subject. [The story] is based in an extremely feudal society where men do as they please, but for the woman to [find a sexual partner in another] wasn't just escapism. It was also a way for the woman to explore herself, and maybe she always had homosexual tendencies.
Creative license is alright as long as we don't disturb the original to bring in the new interpretation. And if I did have to do that, I'd write a new story. I've tried to stay true to Ismat apa's story and since what she has written is still not accepted in our society, [it's relevant].
We want to start here, but we'll take the debate forward. Even within the LGBT community, there's a lot that's said about gays and transpeople, but the visibility of lesbians is very poor. Why's that?
DS: Because women...
Right, exactly. That's why I think it was important to bring forth this story without tinkering with it. If [lesbian relationships] aren't accepted to begin with, how will we take this forward?
Having said that, the message is spreading. It's a start. We don't know everything ourselves, we're also learning. And with that understanding, we're also slowly developing. After all, we've also come from the same feudal society.