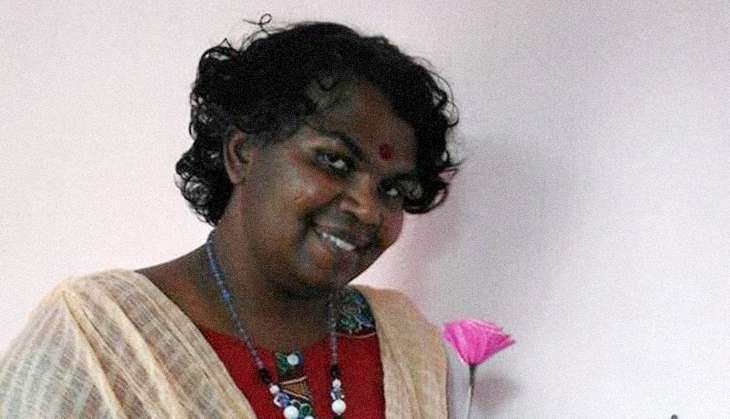 (Note: This article will use the gender-neutral pronouns 'ze' and 'zir' as our interviewee prefers.)
On 30 December, a one of a kind model school in Kochi will welcome its first batch of 10 students. Sahaj International School, though ordinary sounding, opens with the extraordinary ambition of helping transgender high school dropouts in gaining that all important passing certificate.
Led by six transgenders from TransIndia Foundation with activist Vijayaraja Mallika at the helm, the school promises to provide residential facilities for a short period, free textbooks, gender neutral toilets, a meal for those in need, and tuition to pass Class X and XII.
Also read -
This TG model's gown is made of flags from anti-gay nations. Including India
But this is no traditional school, as Mallika tells Catch. "It's a centre for the reintegration [and education] of school dropout transgenders. It is a community space that provides tuition and helps with life-skill education."
Infuriated at the widespread misreporting that is taking place about the school, ze clarifies, "This is not a school for transgender children. There's nothing like that."
Putting in a word for those who got it wrong, ze chides, "My dear journalist people, if you don't have any news, don't write like this."
The aim
Mallika says that zir efforts are focused on introducing inclusive education. "Basically, we want to establish an institution for 5-10 years," ze says, adding, "This is to make a model. We want to make an intellectual pool of the community... as once they get education, they would be free from ignorance."
The idea is also to have a friendly atmosphere as that's something a large chunk of the community, in Mallika's opinion, misses out on.
"This is for dropouts," ze insists, for they are the ones to have missed out on opportunities, and that's because they missed out on education. "We are providing them a safe space for security and sustainable education."
"We are linking our programme with National Open Schooling so that this becomes a policy later on."
Mallika had to convince the Catholic Church that this was a project worth supporting. Ze met with the authorities and quotes parts of the Bible where the trans community was mentioned.
"We have support from the Catholic group. This is the first time in Kerala that the Catholic Church is going to accept the transgender community," ze says proudly.
Talking about the kind of support ze has gathered, Mallika says, "We have 60 teachers. That is 30 active trainers and 30 retired teachers, social workers, students interested in taking part, etc."
The reason
Breaking down zir reasons for establishing an institution like Sahaj International, Mallika says that it's threefold.
The first has to do with the need for reservation for transgenders. "Already there's reservation in the OBC part. We currently don't have the reservation and rights given to ex-servicemen and SC/ST, but we have a column," ze says.
Also read - I Am Not A Hijra: A damaging, offensive Transgender India photo campaign
Second, is that the school helps create an "an intellectual group" within the community "by giving them education and a model [to reintegrate] in society. This will [help them] get jobs and a sustainable existence in life."
Third, ze says, is to ensure that they are well-adjusted in their families and by helping them stand on their feet and regain confidence, ze hopes to support them effectively.
The word
The need for a school like Sahaj International is highlighted by the stark numbers Mallika quotes. "In Kerala, as per a survey, there are 25,000 transgenders. Around 57% of them couldn't complete their education," says Mallika. The reality, ze says, would be worse than this.
Talking about Sahaj International's student demographic for this programme, Mallika says that in the class of 10, they would like the ratio of "three post-operated male to female transgenders, one female to male transgender, one intersex, one migrant from northeast from Meghalaya, Assam or Tripura where they don't have a specified 'Hijra' community."
The word 'Hijra' seems to rankle with Vijayaraja Mallika, and the language used to describe the trans community in India is a large part of zir vision.
"If you go to the internet and search for the Indian term for transgender, you'll get the word Hijra, right? Now the problem is that not all transgenders are Hijras and not all Hijras are transgenders. I'm not Hijra, but I've faced a lot of problems for being seen as one," ze shares.
Also read - Not my Bill: Indian Hijra community rejects current Transgender Rights Bill
Besides that Mallika is also deeply troubled by the extremely derogatory language that is often used to describe transpersons. Ze intends to eliminate this with the word 'Sahaj'.
"Sahaj means natural," Mallika explains. 'Natural' because, as ze says, "The god that created man and woman created me."
Mallika and her team have even approached Kerala Public Relations Department (PRD) with the request to adopt the word Sahaj to describe transpersons. "I take this moral responsibility. Sahaj should be added," ze says.
Well, while it is impossible and arguably unnecessary to completely detach the word Hijra from the Indian understanding of a particular trans culture, it is important to recognise the plurality within the trans community.
Sahaj International School's seemingly ordinary name could be that first step towards change.