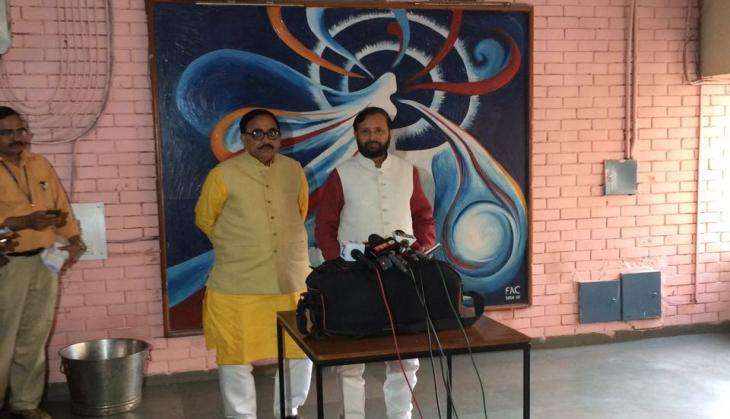 Human Resource Development minister Prakash Javadekar didn't really have an easy time during his media address at the Indian Institute of Technology, Delhi, on 23 August. Why? Because not only was the Honourable Minister quizzed about his affiliation with the Rashtriya Swayamsevak Sangh (RSS), he was also confronted with questions on the recent surprise check on hostels at Jamia Millia Islamia University by the Delhi Police and reportedly by the Intelligence Bureau on Independence Day.
To say that he was shocked by the unexpected questions shot at him without a warning would be an understatement.
As according to public perception, Javadekar may just facilitate RSS-verified education in the country, it is but natural for such questions to pop up. However, they caught the man who knows how to play well with words, quite on the back foot. Javadekar's first response - "not reacting to such comments is the best reaction" - received light applause from a few fellow journalists standing behind me. And then came his second response, "I am India's education minister and I believe education is a national issue and not a political one."
With all due respect, Mr Javadekar, you are a politician affiliated to a certain political ideology, which could well be reflected in the policies implemented on the country's academic curricula. And that is what young minds will imbibe, follow and propagate. So a statement like "education should not be politicised", is a rather romantic notion.
As a student of Delhi University's Kirori Mal College, I remember how in 2012, when there was Congress government both at the Centre and in Delhi, late scholar AK Ramanujan's essay about 300 versions of the Ramayana - Three Hundred Ramayanas: Five Examples and Three Thoughts on Translation - was taken off the curriculum despite intense opposition from the history department. The decision was taken owing to pressure from Akhil Bharatiya Vidyarthi Parishad(ABVP).
Also Read: NAT won't replace JEE for now, IIT seats to touch 1.28 lakh: Javadekar
Javadekar, who recently took over the HRD ministry after Smriti Irani was shifted to the Textile Ministry, also said, "The ministry has asked people for their suggestions till 30th September and based on the suggestions, the national education policy will be formed." And who will scrutinise the suggestions? The RSS, perhaps?
About the surprise check at Jamia's hostel on Independence Day, which left students disturbed at a time when the nation was mesmerised by emotional patriotic songs sung by Lata Mangeshkar, he said, "I have no information about it and I think the students' strike (protesting the checks) is already over."
So all's well that ends well. The strike is over, we've been told not to "politicise education". Yes Mr Javadekar, perhaps "not reacting to such comments is the best reaction".