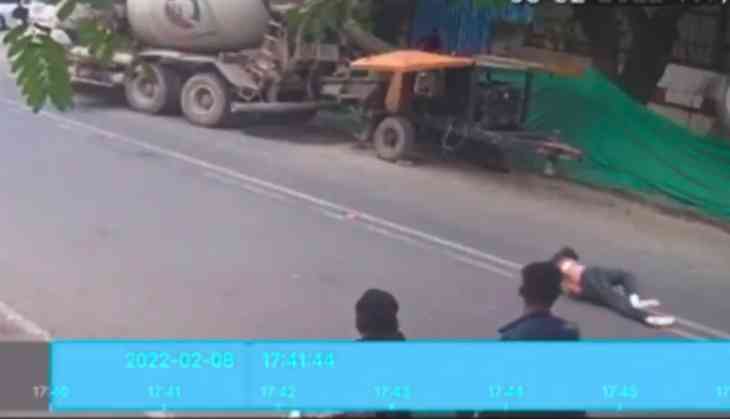 A chilling video of a hit and run accident in Delhi's Greater Kailash, in which a car hits a man and drives on with him on the bonnet before he falls to the ground and suffers grave injuries, has now come to light.
The clip, caught on CCTV cameras in the posh South Delhi locality, shows the SUV speeding with the man hanging onto the bonnet.
Delhi Police have found a CCTV footage which shows Sunderam driving his newly purchased Volkswagen at very high speeds and dragging the victim on the bonnet for nearly 200 metres before fleeing the spot.https://t.co/7M0FCAwJVk pic.twitter.com/MSAKl9ODCe

— Express Delhi-NCR 😷 (@ieDelhi) February 11, 2022
Footage from another camera displays the man flung to the road as the car speeds away. Visibly in pain and hardly able to move, he is then helped by passers-by. Police came to the spot after getting information about the incident and rushed the victim, identified as Anand Vijay Mandelia, to the hospital.
Currently, the victim is receiving treatment at the hospital and is said to be out of danger. He has told police that he was walking when a car hit him from behind and drove on.
With the help of CCTV footage, cops have identified the accused. Two days following the February 8 incident, 27-year-old Raj Sunderam, who was allegedly driving the car, was taken into police custody from outside Le Meridian Hotel in Gurgaon.
The accused has been booked under several charges of the Indian Penal Code, including those relating to attempt to murder and attempt to commit culpable homicide. A case has also been lodged against his father.
Also Read: Man hangs onto paraglider mid-air without safety harness, watch nail-biting video