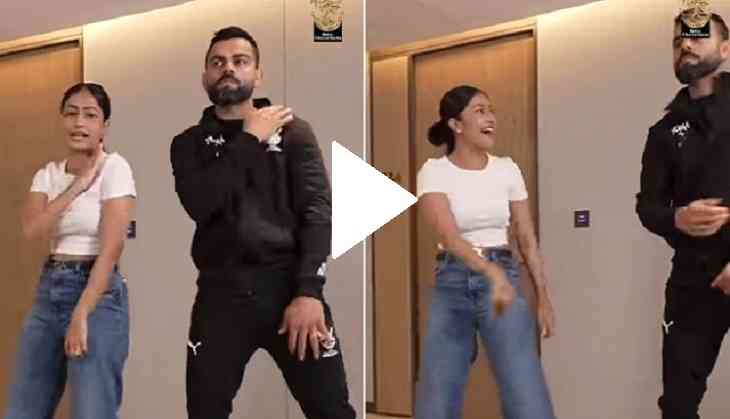 WATCH: Yuzvendra Chahal's wife Dhanashree teaches some amazing dance steps to Virat Kohli
Yuzvendra Chahal's wife Dhanashree Verma is a quite famous personality on social media platforms. The maestro keeps on sharing her dance videos on her YouTube and Instagram accounts. However, this time she can be seen teaching some steps to Virat Kohli for RCB's music video.
The Royal Challengers Banglore team has shared some BTS (behind the scenes) moments on Instagram. The video has gone viral on social media and RCB fans have gone crazy after watching the video.
In a short clip, Virat can be seen learning the hook step of the music video. After dancer and choreographer Dhanashree taught him the dance steps, Virat can be seen performing the steps in front of the camera.
Also Read: See how Anushka Sharma and Chahal's fiancé Dhanashree Verma cheer for Virat Kohli-led RCB
She also taught some steps to her husband Chahal and his teammate Devdutt Padikkal.
The video was posted on Instagram along with a caption, "Some fun #BTS moments from our music video shoot."
Watch the viral video here:

Ever since the clip was shared on social media, it has garnered over 2.4 million views. While RCB, Virat Kohli, and Dhanashree's fans have shared several comments in the comment box.
One of the users commented, "King Kohli."
Another quipped, "Now rcb team have a free choreographer"
"Finally dhanshree get video of dance with virat," a user wrote.
A user said, "RCB love h hamara"
Also Read: Yuzvendra Chahal's wife Dhanashree's dance video with her brother goes viralYuzvendra Chahal's wife Dhanashree's dance video with her brother goes viral