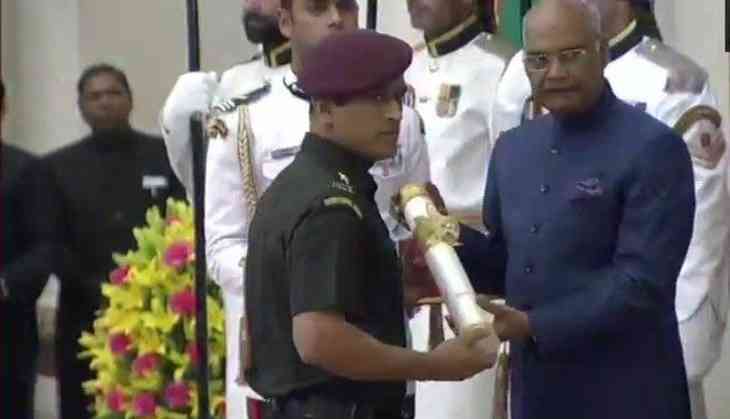 Indian cricketer and former captain cool MS Dhoni, who has received the third highest civilian, Padma Bhushan award from President Ram Nath Kovid at the Rashtrapati Bhavan in New Delhi on 2nd April 2018. During receiving the award, MS Dhoni seems in the uniform of the Indian Army as Dhoni is also holding the rank of Honorary Lieutenant Colonel. While walking towards the stage for award receiving, Dhoni gave the customary march in his uniform.
After Kapil Dev, MS Dhoni has become the second Indian cricketer, who conferred with this coveted award. Former Indian skipper was accompanied by his wife Sakshi during the event. Everyone gave a round of applause to Dhoni as soon as he stood up for receiving the Padma Bhushan award.
Also read: IPL 2018: Chennai Super Kings skipper, MS Dhoni dancing his heart out with his team is the cutest thing on the internet today; see video
Besides, this award ceremony, do you remember that MS Dhoni has honoured with this prestigious award on the 7th anniversary of the famous 2011 World Cup triumph. During the final match between India and Sri Lanka, India has registered the victory over Sri Lanka team and lifted the World Cup trophy after winning the 1983 World Cup.
With 10 balls to go at the Wankhede Stadium, the then-captain Dhoni ended India's 28-year wait with a massive six.
Well, it's a big moment or we should call a coincidence that Mahi received this prestigious civilian honour on the 2011 World Cup anniversary.
Also read: World Cup 2011: Do you know why the coin was tossed twice during the match at that time? See video