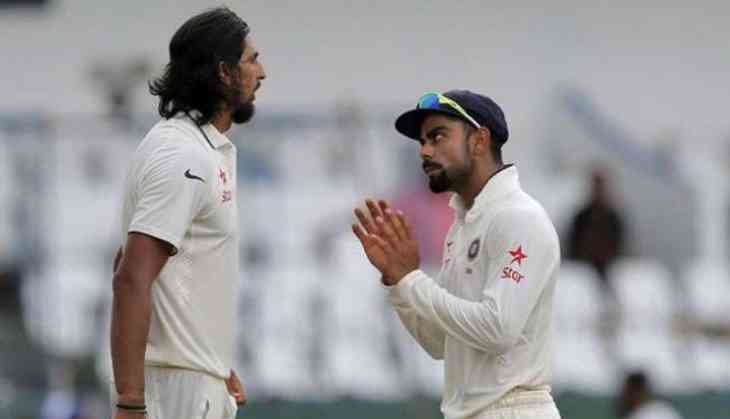 When rest of the Indian team rejoiced pacer Ishant Sharma was not as happy as everyone. The reason? He'd bowled a no-ball which, for a tense time, he thought might have cost India a Test win against Australia. Chasing 323, the Australians were 9-279 in the first Test on Monday when a Sharma ball thundered into the pads of Nathan Lyon.
Australia went on to add dozen more runs before Ashwin got the last man out. In a post-match press conference Indian skipper Virat Kohli said, "Ishant is the most pissed off right now, We are all very happy celebrating but he was really, really angry with himself. I asked him why and he said 'you can't afford to bowl a no-ball, being the senior guy, having played so many games and in a crunch situation - and the umpire probably would have given that out'."
Also read: Here's why Gautam Gambhir was angry with MS Dhoni after 2011 ICC World Cup win
Virat Kohli and company won the first Test match against Australia in Australia and made a record by becoming the first Indian team to win the first Test match down under. The Indian team won the match by 31 runs to lead the series by 1-0.
This was India's third closest Test win after winning a Test against Australia in Mumbai by 13 runs and then in Kolkata by 28 runs against England in 1972-73. India is the second Asian side to win the first Test of a series in Australia after Pakistan.
India made 250 in its first innings with Pujara making an amazing century of 123 runs until he was run-out by Pat Cummins. Australia were bowled out for 235 and were trailing behind by 15 runs. India in its second innings made 307 runs with Pujara and Rahane both making 71 and 70 runs respectively meanwhile Australia were bowled out for 291 runs with only Shaun Marsh reaching the half-century mark.
Also read: 'G*te mooh main aa gaye the', says Ravi Shastri on live TV and gets trolled on Twitter