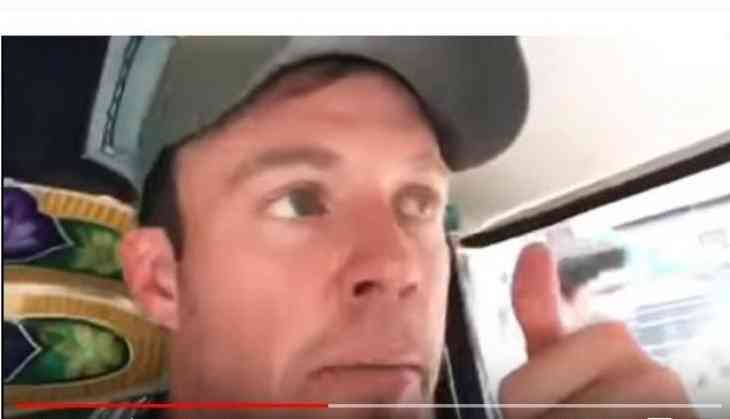 Royal Challengers Banglore have not been able to up a performance up to their name. The performance just does not suit the stature of players involved with the RCB. However, the team's primary players including Virat Kohl and Ab De Villiers have been in a terrific form and have been performing well. He has performed in all the matches apart from the one game when RCB played against Mumbai Indians.
De Villiers' is a world famous cricketer and his popularity in India is well known to everyone. He is a blessed sportsman and his batting and fielding abilities are very popular. The superstars' knocks in the season have not bore fruits for the team as yet but his individual performances have drawn praise from all over. The latest example of the immense love fans have for the player came over when Ab De Villiers decided to get out for an autorickshaw drive with his family. He was accompanied by his wife Danielle and son Abraham on the streets of Banglore.
There has come viral video in which the star batsman can be seen enjoying the ride. He also acknowledged the passersby and other fans by waving his hands accepting their love and support. De Villiers can also be seen saying "Ee Saala Cup Namdhe", which roughly translates to "The Cup [IPL trophy] is ours this year".
Also Read: MP Home minister Bhupendra Singh pens letter to the central government to ban Porn sites; Here's why
RCB lost to CSK in its last match and failed to defend a total of 205. However, the defeat can be attributed to the exceptional inning played by MS Dhoni that steered CSK to victory. RCB needs to soon return to the winning track if they wish to Ab De Villiers' words become the truth.
Also Read: MP Home minister Bhupendra Singh pens letter to the central government to ban Porn sites; Here's why