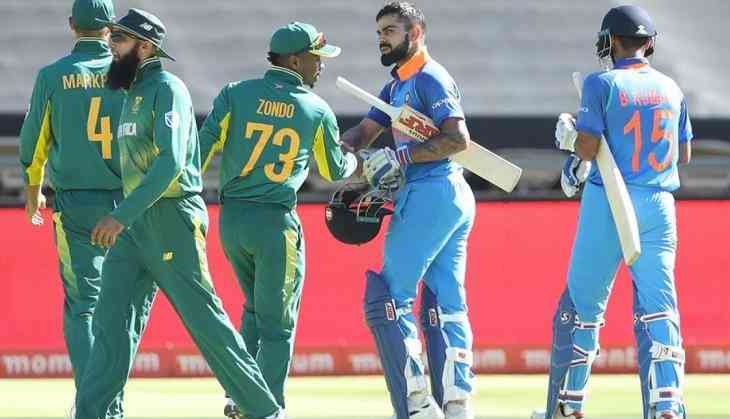 Ind vs SA 3rd ODI: Virat Kohli let team wins third continuous ODI; made these five special records
The Indian cricket team led by captain Virat Kohli has won the third ODI match against South Africa in 6 matches ODI series. India defeated South Africa by 124 runs and this is the third win of India in this series. While batting first, Indian team made 303 runs by losing 6 wickets in 50 overs.
Now when South African team came to bat then they failed to bat against India team, especially in front of spinners Yuzvender Chahal and Kuldeep Yadav. The team got all out on 179 runs in just 40 overs. Actually, the South African team lost its four biggest wickets under 100 runs.
Now in this game Indian team made five new records that maybe you would not aware of.
Also Read - Video: Indian skipper Virat Kohli's message for Pakistani Umpire Aleem Dar goes viral
1. According to records, this is the first time happened in India's any ODI match when two bowlers have got 4-4 wickets. Yuzvender Chahal and Kuldeep Yadav got 4-4 wickets in this match.
2. This is also the first time when the South African team had lost back to back three matches continuously in their home. Also, this is happening for the first time when South Africa is losing any ODI series against Indian in their home.
3. Earlier in South Africa, no spinners have taken 10 wickets or more in any ODI series against South Africa. However, Chahal and Kuldeep Yadav already have made this record. Chahal has taken 11 and Kuldeep has taken 10 wickets in this series yet.
Also Read - Meet World's top 5 highest paid cricket coaches; Indian coach Ravi Shastri tops the list
4. Yuzvender Chahal has become India's fourth spinner to take back to back 4 wickets in ODI matches, earlier the record was on the name of Ravindra Jadeja, Sachin Tendulkar, and Narendra Hirwani.
5. After winning the third ODI match against South Africa, this has happened for the first time when India has won 9 consecutive wins overseas ODI, earlier the record was of 8 matches and it has happened for three times.