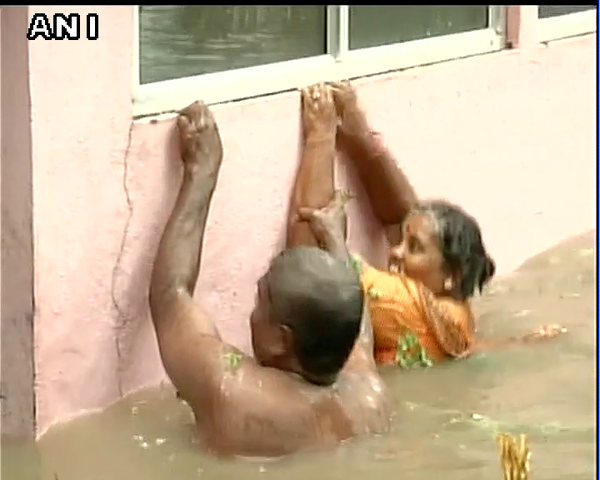 In the wake of the flood alert that has been issued in parts of Tamil Nadu, the Chennai Corporation on Tuesday announced emergency contact numbers for all the regional zones in the city for the people to contact in case of any emergency due to the floods.
With the MET predicting heavy rains over the already rain-hit Chennai and northern Tamil Nadu for the next three to four days, the state government issued a flood alert today.
The Chennai Airport has also been temporarily closed amidst heavy rainfall in the city.
The Army has been re-called as have additional forces to carry out rescue operations in the flood-hit areas.
NTL India, a conventional call taxi provider, has introduced 15 boats with trained rescue emergency team in several parts of the city.
According to reports, the flood alert has been issued to the people living on the banks of river Adyar in Chennai, as the area remains to be battered by the unrelenting rains affecting daily life.
The met office has forecast scattered to heavy rainfall on Tuesday in Chennai and other parts of Tamil Nadu following a trough of low pressure in the Bay of Bengal, closer to Sri Lanka.
Twelve trains leaving Chennai Egmore were cancelled due to water overflowing on railway tracks between Villupuram - Tambaram section.
The trains that have been cancelled are-12605 Chennai Egmore-Karaikkudi Pallavan Express, 16105 Chennai Egmore-Tiruchendur Chendur Express, 16713 Chennai Egmore -Rameswaram Express, 16115 Chennai Egmore-Puducherry Express, 12693Chennai Egmore-Tuticorin Pearl City Express, 12661 Chennai Egmore-Sengottai Pothigai Express, 16101Chennai Egmore-Rameswaram Express, 16179 Chennai Egmore-Mannargudi Mannai Express, 16177 Chennai Egmore-Tiruchchirappalli Rockfort Express, 11063 Chennai Egmore-Salem Express, 16175 Chennai Egmore-Karaikal Express and 16183 Chennai Egmore- Thanjavur Uzhavan Express.
Prime Minister Narendra Modi spoke to Chief Minister Jayalalithaa and assured full support from the government to the state.
"Spoke to Jayalalithaa ji on the flood situation in parts of Tamil Nadu. Assured all possible support & cooperation in this unfortunate hour," the Prime Minister tweeted.
He had earlier instructed the immediate release of financial assistance of nearly Rs 940 crore to deal with the flood situation in rain-battered Tamil Nadu, hours after Jayalalithaa wrote to him for funds to sustain relief work.
Helpline numbers-
Tree fall, Water logging - 1913
Sewage overflow - 45674567, 22200335
State Emergency - 1070
District Emergency - 1077
Electricity - 1912
Fire & Rescue -101
1st Regional Office (Tiruvottiyur) - 9445190001
2nd Regional Office (Manali) - 9445190002
3rd Regional Office (Madhavaram) - 9445190003
4th Regional Office (Tondiarpet) - 9445190004
5th Regional Office (Royapuram)- 9445190005
6th Regional Office (Thiru. Vi. Ka. Nagar) - 9445190006
7th Regional Office (Ambattur) - 9445190007
8th Regional Office (Annanagar) - 9445190008
9th Regional Office (Teynampet) - 9445190009
10th Regional Office (Kodambakkam) - 9445190010
11th Regional Office (Valasaravakkam) - 9445190011
12th Regional Office (Alandur) - 9445190012
13th Regional Office (Adyar) - 9445190013
14th Regional Office (Perungudi) - 9445190014
15th Regional Office (Sholinganallur) - 9445190015 (ANI)