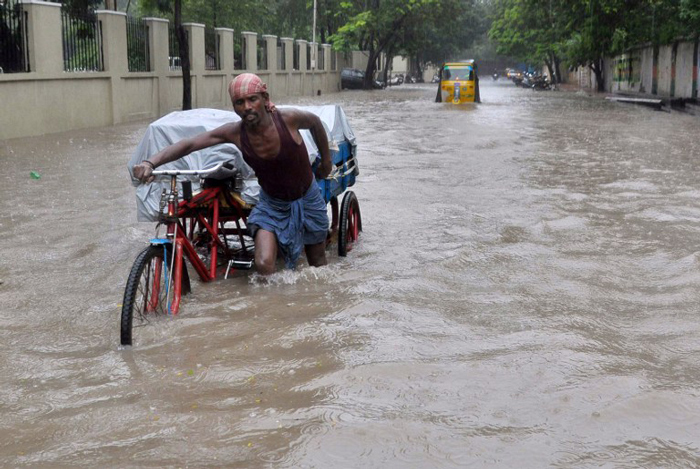 Amidst all the hue and cry over the effects of climate change, Union Environment Minister Prakash Javadekar on Wednesday refused to link the rain-ravaged situation in Tamil Nadu directly to climate change, saying it was natural calamity.
"What has happened in Chennai over last ten days is absolutely a very serious situation, this can't be directly attributed to climate change; it is a natural calamity, but this calamity needs to be tackled effectively," Javadekar told reporters.
"The NDRF and other agencies are already doing all kinds of the relief work in coalition with the state government," he added.
Javadekar also said that all these instances were taking place because of the frequency of irregular monsoon.
Javadekar's suggestion to check such calamity:
Keep our drains clean and open
Must allow water to flow naturally, even in urbanised India," he added.
Central assistance to Chennai
Prime Minister Narendra Modi met senior cabinet ministers, including Rajnath Singh, Arun Jaitley, Sushma Swaraj and Venkaiah Naidu and reportedly discussed emergency measures to be taken to assist the government in rain-ravaged Tamil Nadu, and especially help the people of Chennai, which has been the recipient of heavy rains over the last week.
Parliamentary Affairs Minister M. Venkaiah Naidu said the Government of India was willing to extend all support, saying "This is not just a Chennai problem; it is a problem of the entire country."
Worst downpour ever
The non-stop torrential rain, pouring since Monday evening as most areas in the city remained submerged - some under five feet of water.
The weather office said a slow-moving depression over southwest Bay of Bengal has triggered the fresh bout of heavy rain in Tamil Nadu, which is still smarting from a cyclonic storm that hit the state in November.
With inputs from ANI