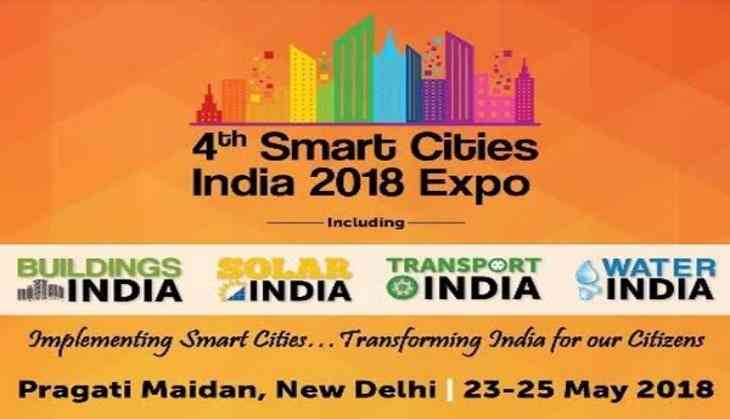 The 4th Smart Cities India 2018 expo, co-locating five major verticals that make up our smart city framework - Buildings, Solar, Smart Cities, Transport and Water, begins tomorrow at Pragati Maidan, New Delhi.
Union Minister of Commerce and Industry, Suresh Prabhu, will be the Chief Guest at the opening ceremony on May 23. CR Chaudhary, Union Minister of State for Commerce and Industry and Consumer Affairs, Food and Public Distribution, and Ashwini Kumar Choubey, Union Minister of State for Health and Family Welfare will be the guests of honour.
Durga Shanker Mishra, Secretary, Ministry of Housing and Urban affairs will deliver the keynote address while H.E. Daniel Carmon, Ambassador of Israel to India, will deliver a special address.
Co-organised by the India Trade Promotion Organisation (ITPO), the NASSCOM Center of Excellence - IoT and Exhibitions India Group, the three day event at Pragati Maidan, New Delhi from May 23-25 offers an ideal platform to make profitable business relationships, exchange ideas and enhance know-how.
Conveying his best wishes for the success of the expo, M Venkaiah Naidu, Vice President of India, wrote: "This incredible initiative will provide a platform for industry professionals to exchange ideas and technological improvements, and will go a long way to serve the needs of the nation. The expo also manifests a multi-pronged strategy of the Indian economy, which is driven by the Smart Cities Mission, and the Digital India and Make in India campaigns, to transform trade and industry into an engine of socio-economic growth."
While appreciating the efforts by the organisers to host this event, he hoped that the expo and the conference sessions would help in clearing the roadblocks to smart infrastructure, and strengthens utility-city partnerships through collaboration.
Hardeep S Puri, Union Minister of State (I/C) Housing and Urban Affairs, wrote in his message: "Some of the core elements in a smart city include adequate water supply, assured electricity, sanitation including solid waste management, efficient urban mobility and public transport, affordable housing, especially for the poor, robust IT connectivity and digitalisation, good governance, especially e- Governance and citizen participation, sustainable environment, safety and security of citizens, particularly women, children and the elderly."
He believed that deliberations at the event will cover all these critical aspects and throw up additional specific ideas which can be considered for implementation.
Congratulating the organisers and the participants, Choubey said, "Projects like Make in India, Skill India, Startup India and Digital India are an integral part of our deep commitment to make India healthy and prosperous."
Durga Shanker Mishra, Secretary, Ministry of Housing and Urban Affairs, reiterated that promotion of solar energy in urban areas indicates the Government's commitment towards clean energy. "Equally important is saving every drop of drinking water. We need to embrace technology in a big way to meet these objectives," he added.
Speakers at the conference sessions will cover a wide gamut of areas where city leaders are looking to innovate and improve their citizens' lives. The inaugural conference session, Implementing Smart Cities.. Transforming India for our Citizens, will have plenty of star power on hand to share best practices with all stakeholders.
On the eve of one of the boldest and busiest trade shows in the region, participants' excitement levels are also high.

Chetan Maini, Co-Founder and Vice-Chairman, SUN Mobility, believes that events like One Mega Event provide a great platform for all stakeholders to collaborate.
"We are at the tipping point, and for the country to truly transition to electric mobility, the industry and the government need to work together to build a strong policy and regulatory framework. A framework that is more flexible and technology agnostic will foster innovation in technology and newer business models," he added.
(NewsVoir)