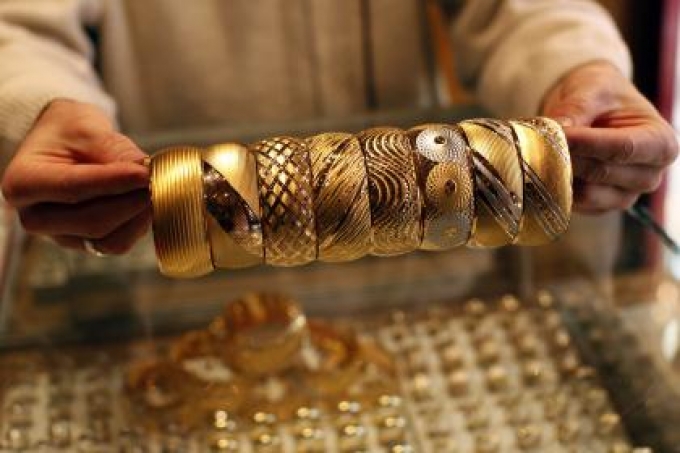 Gold prices plunged by Rs 220 to trade at Rs 26,110 per 10 gram at the bullion market here due to a weak trend in global market and slackened demand from jewellers and retailers on Saturday.
Silver also slumped by Rs 500 to Rs 35,300 per kg on reduced off-take by industrial users and coin makers.
Bullion traders said a weak trend overseas where gold dipped below $1,100 an ounce after strong US employment report for October, boosting the case for the Federal Reserve to raise interest rates, eroding demand for the precious metal and kept pressure on prices.
Besides, easing demand from jewellers and retailers at domestic markets too weighed on sentiments here, they said.
Globally, gold fell 1.29 per cent to close at $1,089.40 an ounce and silver lost 1.34 per cent to settle at $14.74 an ounce in New York in Friday's trade.
Meanwhile, gold prices in overseas markets slid 4.7 per cent this week, the biggest loss since October 31, last year.
In the national capital, gold of 99.9 and 99.5 per cent purity plunged by Rs 220 each to Rs 26,110 and Rs 25,960 per 10 grams, respectively. The precious metal had gained Rs 80 in Friday's trade.
Sovereign also declined by Rs 50 to Rs 22,250 per piece of eight grams.
In a similar fashion, silver ready dropped by Rs 500 to Rs 35,300 per kg and weekly-based delivery by Rs 560 to Rs 34,900 per kg.
Silver coins also plummeted by Rs 1,000 to Rs 49,000 for buying and Rs 50,000 for selling of 100 pieces.
-PTI