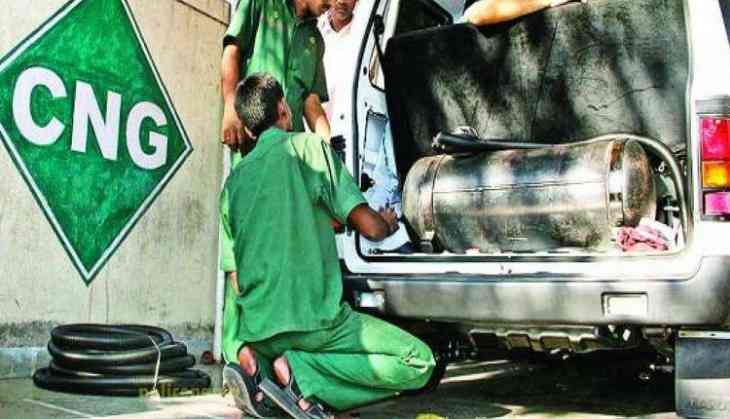 The price of Compressed Natural Gas (CNG) witnessed an increase of Rs 2.5 per kg in the national capital and adjoining cities on Thursday. With a total increase of Rs 15 per kg since March, CNG is now retailing at Rs 71.61 per kg in Delhi.
Indraprastha Gas Limited (IGL) is the enterprise which deals in CNG and piped cooking gas in the national capital and neighbouring cities.
LATEST RATES:
With effect from 6 am on April 14, here's how much CNG costs per kg in Delhi and nearby cities:
Delhi - Rs 71.61 per kg
Noida, Greater Noida & Ghaziabad - Rs 74.17 per kg
Muzaffarnagar, Meerut & Shamli - Rs 78.84/ per kg
Gurugram - Rs 79.94 per kg
Rewari - Rs 82.07 per kg
Karnal & Kaithal - Rs 80.27 per kg
Kanpur, Hamirpur & Fatehpur - Rs 83.40 per kg
Ajmer, Pali & Rajsamand - Rs 81.88 per kg
Mahanagar Gas Limited (MGL) increased the price of CNG by Rs 5/kg in and around Mumbai on Wednesday, citing the massive rise in input prices. Compressed natural gas is now retailing at Rs 72 per kg in financial capital of the country.
According to MGL, from April 1, the Centre has increased the supply price of domestically-produced natural gas by 110 per cent.
Leaving aside CNG, the price of petrol and diesel have been on an upward spiral since March.
Also Read: 7th pay commission: Here's new rates of dearness allowance for central government employees
Also Read: Not aware of any crypto exchange using UPI, says National Payments Corporation of India