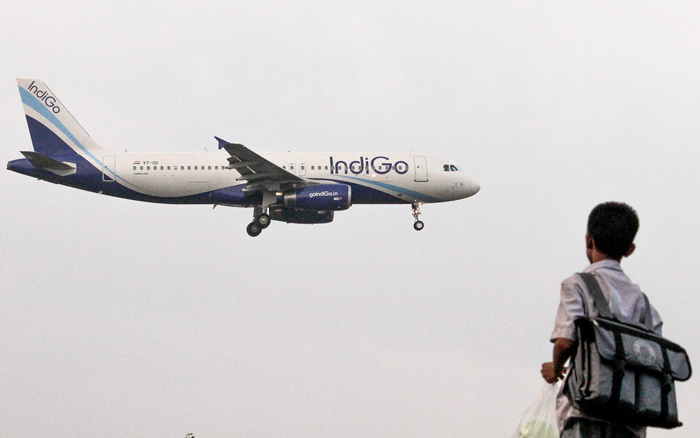 IndiGo's parent company InterGlobe Aviation's 3,200 crore initial sale may be profitable but the company's net worth has come down in three months that ended this June.
Remaining profitable for nearly seven years, InterGlobe, however, saw its net worth slip to a negative Rs 139.39 crore at the end of June 2015.After a prolonged wait, InterGlobe - which is running the country's most profitable carrier under the brand name IndiGo - will be hitting the market for its little over Rs 3,200 crore IPO on October 27.
The IPO will be the largest in nearly three years."The net worth of our company was Rs 426.22 crore and Rs (139.39 crore) as of March 31, 2015 and June 30, 2015, respectively, as per the restated financial statements of our company prepared in accordance with Indian GAAP and restated in accordance with the ICDR Regulations," it said in the offer document.
Noting that it had a net negative worth at the end of June, InterGlobe said if this financial position continues, it may be "more difficult or expensive to obtain future financing or meet our liquidity needs"."Further, there can be no assurance that we will be able to achieve a positive net worth in periods going forward," the document said.
Net worth is the aggregate of the paid-up share capital, share premium account, reserves and surplus. The figure excludes aggregate of miscellaneous expenditure.
A negative net worth implies the company's liabilities are more than its assets.The carrier has been profitable since fiscal 2009.In the latest June quarter, IndiGo posted a net profit of Rs 640.44 crore. During the same period, total revenues stood at Rs 4,317.19 crore.For the year ended March 2015, the carrier recorded a net profit of Rs 1,295.58 crore on revenues of Rs 14,309.14 crore.
The Gurgaon-based entity is also the largest domestic carrier by market share, having flown over one-third of the total passenger traffic carried by Indian airlines in August.
The company has fixed the price band for its initial share sale at Rs 700-765, through which it could raise up to Rs 3,268 crore. It will run on October 27-29.
Under the offer, InterGlobe will have fresh issue worth Rs 1,272.2 crore as well as an offer for sale of little over 2.61 crore shares.Proceeds from the fresh share issue will be utilised towards aircraft acquisition, purchase of ground support equipment for airline operations and general corporate purposes.
-PTI