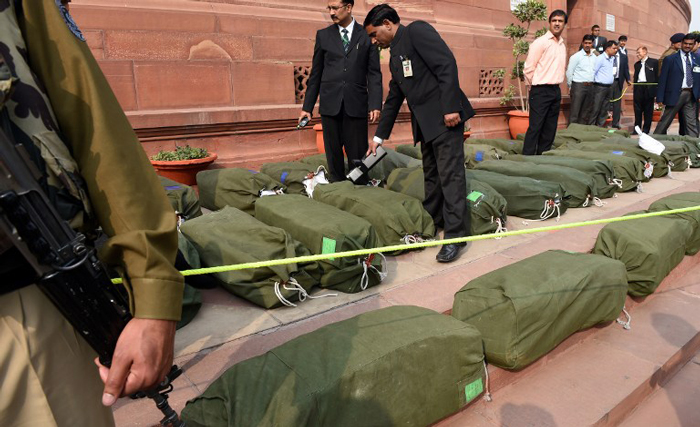 In sheer rhetoric if nothing else, Arun Jaitley's Budget 2016 restores to his government's attention a sector that was missing from its policy priorities - the rural economy.
Most high-profile policy announcements in recent times have involved expressions of public ardour for the corporate sector and the foreign investor. But amid fears of a global slowdown, the note on which the finance minister began his budget speech, there are clear intimations that he will have to look elsewhere for bringing back a semblance of growth dynamism to an economy sunk in stagnation.
Jaitley could not resist the temptation of taking credit for historically low inflation, which, in most expert reading, is nothing to really celebrate since it's a direct outcome of economic stagnation.
But when he turned to urgent budgetary priorities, he acknowledged with rare clarity that the economy is unlikely to go anywhere without a serious effort at boosting rural demand and purchasing power.
Flight of fantasy
After that moment of clarity came a flight of fantasy. His government had set a target of doubling rural incomes by 2020-21, Jaitley said, echoing almost verbatim a vow that Prime Minister Narendra Modi had made at a farmers' rally in Karnataka on Saturday.
And to achieve this, it would set ambitious targets for expanding irrigation capacity and reaching electric power to the last village in the country. The target is to complete rural electrification by 2018 and bring over 10 million hectares of cropped area under assured irrigation within the next year.
With all the rearrangement of spending priorities and the extra allocations made for the rural agrarian sector, setting a target of doubling farm incomes suggests an extravagance of wishful thinking. Doubling of any entity in five years requires an annual growth rate of 15%. But with agriculture currently anchored in negative growth territory - or, at best, growing at less than 1% annually - the finance minister's ambition clearly seems to have overwhelmed his grasp of reality.
What doubling rural income requires - rural electrification by 2018, irrigating 10 mn more hectares
Other urgent priorities flagged in the budget were social sector investments, infrastructure and augmentation of banking capital, now seriously eroded by an epidemic of bad loans. The markets were buoyed by the initial articulation of the budgetary mission, but then retreated as specific details began coming in.
Taking stock
By the end of the day, the country's stock markets were in a sullen mood. Investors are particularly miffed by the decision to tax dividend earnings as part of shareholders' income, even at a very modest 10% rate and subject to a threshold of Rs 10 lakh. This seemed like a serious iniquity, a third stage of taxation as corporate income is already subject to tax prior to payout and dividends attract a modest levy at the stage of distribution.
This, of course, is an overstated grievance since income streams are always subject to multiple levies. And the special tenderness that recent budgets have shown to the stock market have clearly done the economy little good since its ebbs and flows continue to create serious crises of confidence every so often, while contributing little to real investment levels.
The tenderness recent budgets have shown stock markets have done the economy little good
Valid questions have been raised over resource mobilisation for meeting the new spending priorities, especially when Jaitley has stated his firm resolve to maintain the fiscal deficit at 3.5% of the GDP over 2016-17 - a significant advance over this fiscal's target of 3.9%.
This clearly is an overture to the bond markets, a plea to retain faith in the management team and not respond in a manner that could destabilise the economy. The government's borrowing needs will escalate over the coming year if it intends to meet all its spending targets. So, it's important to keep the bond markets content. And declining bond yields could boost the value of government debt held by banks, shoring up their assets base. That would conceivably meet the troubled banks' need for fresh capital infusions, allowing them to expand credit to sectors starved of investment.
The strategy for recapitalising the banking sector hasn't been fully articulated. A figure of Rs 25,000 crore has been spoken of, but the full implementation of the norms recommended by the Switzerland-based Basel Committee on Banking Supervision would require about 10 times as much.
Incentives aplenty
An increase in tax exemptions on housing loans is expected to boost the real estate market, at least in small towns and cities. But otherwise, there is little in this budget to loosen the logjam in urban housing and infrastructure, where investments over the last 15 years have created a rash of excess capacities.
There's an effort by the government to address the dismal employment scene by committing to meet three years of a worker's provident fund contribution after regularisation. This could incentivise companies to take workers out of their current state of precarious employment and give them some semblance of job security.
With all the ambitions he spelt out about pulling the economy out of its current despondency, Jaitley really had few revenue raising options to offer, given that one eye was uneasily turned towards the fickle markets. A cess on all taxable services is expected to contribute part of the intended outlay for agriculture.
And a tax on the "super rich", a new category introduced this year, is a long overdue acknowledgment that the inequalities fostered through the growth of the last ten years in particular, need to be addressed.
Jaitley's third budget shows an awakening to that realities that the Modi government seemingly chose for long to remain indifferent to. Monsoon expectations are favourable this year and an investment boost in agriculture could produce favourable spin-offs in other sectors of the economy.
It remains to be seen if the full range of conditions for such a positive outcome will be met, especially given the global economic outlook.