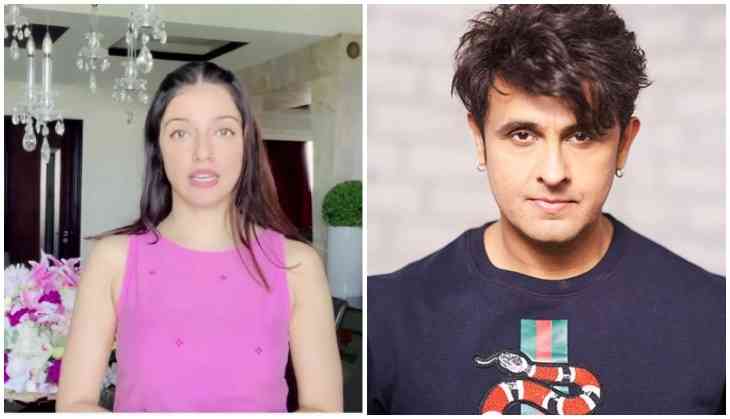 Divya Khosla hits back at Sonu Nigam
A while ago Sonu Nigam released a video wherein he warned Bhushan Kumar of opening his dirty secrets. Soon after Divya Khosla, Bhushan's wife took to his Instagram story and wrote that he is a thankless person as it was T-Series who has given him name and fame. As we thought that this fight is kind-off over between the two, however now it seems this social media war is not going to die so soon as Divya has released a video against the singer.
Taking to her Instagram she posted a video wherein she can be seen hitting back at singer's allegation. In the video, she said that T-Series has given chance to many new talents whether it's a singer or music director or composer, etc. She then specified that 97% of the people in T-Series are outsiders and not the industry kids.
Also Read: Sushant Singh Rajput Death: Police suspect late actor tweets were deleted; likely to send letter to Twitter authorities
She further added that in her film Yaariyan she gave break to 10 newcomers among which four of them namely Neha Kakkar, Himansh Kohli, Rakul Preet Singh and composer Arko Pravo Mukherjee are big names in the industry. She further lashed out at Sonu saying that he has not given break to any singer in industry and is rather lashing out at them.
Divya then went on to talk about Sonu's claim that Bhushan asked for his help to save himself from gangster Abu Salem. She said, "Why would Bhushan come to you to save himself from Abu Salem? Did Sonu Nigam ji have relations with Abu Salem?" She then demanded an investigation into the matter.
Also Read: Music labels are like gangsters: Monali Thakur reveals dark secrets of music industry after Sonu Nigam
She continued that since Sonu post the video against Bhushan, her family is receiving death and rape threats. Well, she didn't want to make this video however Bhagavad Gita inspired her to raise her voice against the wrongs. She concluded her video saying, "Ranbhoomi is open and whosoever wants to gain publicity then they can join as Yodh is on".
Also Read: Govinda's son Yashvardhan meets with car accident in Juhu [VIDEO]