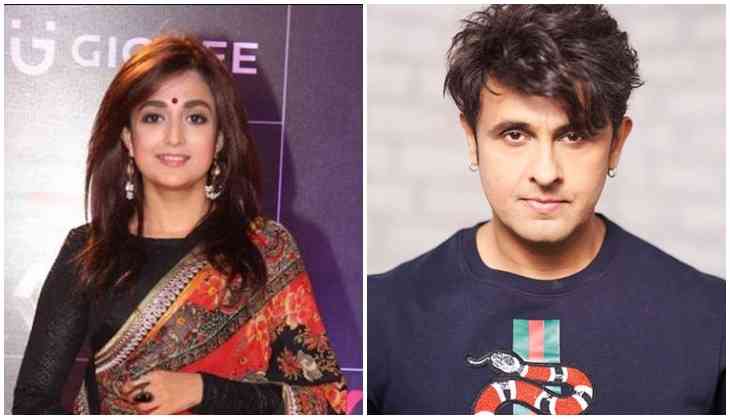 Monali Thakur reveals dark secrets of music industry after Sonu Nigam
Sonu Nigam is hitting the headlines over his recent controversy with Bhushan Kumar. Earlier we informed you Adnan Sami coming out from the shell and revealing that singers, music composers, music producers are being exploited to the hilt. Now, to show support to Sonu, Monali Thakur has come out and alleged that bigger mafia exists in the music industry as compared to the film industry.
While speaking to Bollywood Spy, Bollywood's famous singer revealed some shocking dark secrets of the music industry and said that when she saw the video of Sonu yesterday, she sent him a message thanking him for voicing out the truth. She further added that she doesn't like the atmosphere or ecosystem of the music industry and so she doesn't even try to get movie songs anymore. She has alienated herself because she cares about her mental health.
Also Read: After Sonu Nigam takes dig at Bhushan Kumar, Adnan Sami reveals singers, composers are being exploited
She continued that there may not be nepotism however, there is goonagardi. She further asserted, "If you are signed up with a label and giving away 80 per cent of your income, only then you get work. Why? It's not healthy. Music labels are like gangsters, looting what rightfully belongs to the musicians."
Also Read: What? Singer Monali Thakur is married; shares pictures with husband Maik Richter
She concluded by saying, artists don't get their due and are also not paid well and they don't even have rights. While thanking Sonu she said, "he is a senior and he has been in the industry for so long. He is a very big name and an iconic musician. He is over all these things… But it is so true that there is a lot of 'mafiagiri' in the music industry."
Also Read: Hina Khan's BF Rocky Jaiswal takes dig at Sonam Kapoor's 'karma' tweet; says 'I expected better from U'