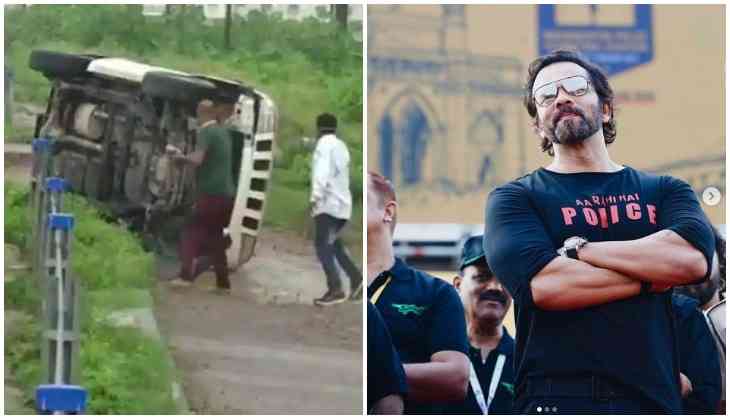 ohit Shetty trends on Twitter, netizens say 'Singham 3 ki script final'
Today, the nation woke up to the news of gangster Vikas Dubey's encounter on early Friday. On Thursday, he surrendered at Ujjain's famous Mahakaal temple and from there, he was being taken to Kanpur by STF. However as per reports, when the police van entered Kanpur one of their jeep overturned due to the heavy rains. On finding an opportunity he tried to flee but he got severely injured in a cross-firing with police and by the time they took him to the hospital he succumbed to his injuries and was declared brought dead by the doctors.
On hearing this many netizens on social media connected the incident with Rohit Shetty's cop-based films and in no time he started trending on Twitter. Well, those who have seen his films know that in most of his movies, the scenes are designed in the same way. Calling the entire encounter fake Twitterati came up with hilarious memes whereas one of the users commented that the Singham 3's script is now final.
Here have look at hilarious memes and tweets:
Rohit shetty after hearing the the story of vikas dubey (gadi palat gayi) #fakeencounter : pic.twitter.com/o3z6mndINR

— Rohan (@Rohanated) July 10, 2020
Rohit shetty reaction when without his permission the car overturned on the road #vikasDubeyEncounter pic.twitter.com/GCISBw6CQt

— Abdul Qadir 🇮🇳 (@aqadir97) July 10, 2020
Dear UP Police we also watched. Rohit Shetty's Singham Returns.
Its a pre-planned political murder just to save the political faces behind him.
Shameful.#vikasDubeyEncounter #UPPolice#FakeEncounter #VikasDubeykilled#YogiAdityanath #VikasDubey #KanpurEncounter pic.twitter.com/SE1e9ajrjG

— Sherry Bansal ✍ (@TheHindiPoetry) July 10, 2020
Does U.P. Police brought rights from Rohit Shetty to recreate the scene?

— Panchal Parth Navin (@Dactoristic) July 10, 2020
Script writer :- Sir ek movie banegi? Climax plot mein bas ek Police convoy palat deni hai aur gunshots honge..

Rohit Shetty :- pic.twitter.com/hS8PmyvRPN

— Ommi Gangawane🇮🇳 (@ohhh_mii) July 10, 2020
When Rohit Shetty heard "fake encounter aur gaadi palat gayi"#FakeEncounter pic.twitter.com/qYWXY5JONX

— Wash Your Hands (@joshiiharshit) July 10, 2020
Rohit Shetty be like after hearing Vikas Dubey fake encounter report..
Ye to mere wala script haii 😝😝#FakeEncounter pic.twitter.com/pE8p8cMvnG

— idremofunicorn🦄 (@Radha702766) July 10, 2020
After hearing news of #vikasDubeyEncounter
Rohit Shetty : pic.twitter.com/E2x8I7gyUf

— Vishwajit Rahatal (@vishwajit_45) July 10, 2020
Meanwhile, talking about Rohit Shetty, soon his film Sooryavanshi starring Akshay Kumar, Katrina Kaid, Jaaved Jaafri among others will hit the theatres. Well, they have yet not revealed the release date however they have confirmed that the film will have a Diwali release.
Also Read: Shekhar Suman's son Adhyayan on facing 'groupism' in Bollywood; reveals shocking details about his films that were shelved