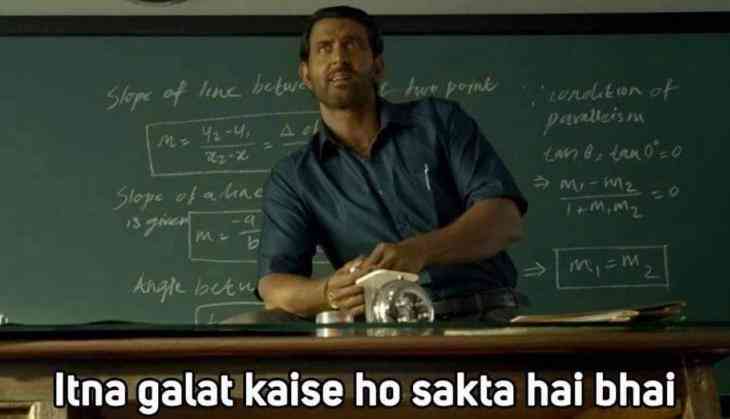 As soon the trailer of Hrithik Roshan starrer new film Super 30 has come out and the new trend of making memes on the popular dialogue has witness Super 30 also. Hrithik Roshan has some loved dialogues in the trailer that has been used in some funny memes as well.
Hrithik Roshan has played Bihar based mathematician in the film who trains students especially economically weaker sections of the society for the IIT entrance exams. The film is based on the life of Bihar's mathematician Anand Kumar, founder of Super 30 educational programme.
In the trailer, there is a dialogue said by Hrithik Roshan, "Pratibha Diye Hain Pra Saadhan Nahi Diye" (We have the talent but not the means to nurture it). After that they have taken another dialogue, "Itna Galat Kaise Ho Sakte Ho Bhai?" (How can you be so wrong?). These statements are enough to make and crack some jokes on relationship status, as well as nepotism.
When the most beautiful girl of class is not on social media...#Super30Trailer pic.twitter.com/Im1kAo0WmK

— Shivam Mishra💤 (@Shivam_mishra21) June 4, 2019
Epic 😂😂😂#Super30Trailer #Super30 pic.twitter.com/Dluj3FAVpW

— ∂я ѕτяαиgє (@drstrange20000) June 4, 2019
Friend zoned guys be like:
#Super30Trailer pic.twitter.com/3l4kfeF7cv

— Vicky (not donor) (@iamvik_) June 4, 2019
Indian people in this election #Super30Trailer pic.twitter.com/tJXsBzAu5i

— mahendra (@OMaddy2593) June 4, 2019
#Super30Trailer
Everyone- Engineering karle bahut scope hai
*Me after doing Engineering* pic.twitter.com/xrBdPGNoh0

— Aadesh Malviya (@bhillager_boi) June 4, 2019
People to neptoism #Super30Trailer pic.twitter.com/cTCzZgXXQ0

— Dr. Bakchod (@potheadmonk) June 4, 2019
Bran Stark#GameofThrones #Super30Trailer pic.twitter.com/cRueM0eZpE

— Am I Write? (@WordsSlay) June 4, 2019
Talking about the film, it has directed by Queen fame director Vikas Bahl, and the film itself has landed in several controversies. Earlier Vikas Bahl was allegedly accused of sexual harassment in October month, however, now he has got a clean chit. The film also stars Mrunal Thakur in the leading role and it is slated to hit the screens on 12th July 2019.
Also Read - Salman Khan fans shouts for Bharat on social media, says 'Abki Baar 400 Crore Par'