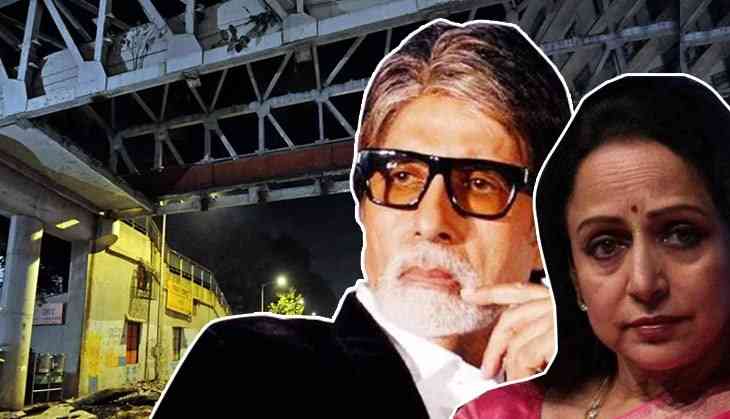 Late Thursday Mumbai faced a very dreadful incident where a part of foot overbridge near Chhatrapati Shivaji Maharaj Terminus (CSMT) railway station collapsed. Around 6 were killed due to the collapse of the bridge whereas around 36 people are injured and they were immediately taken to the hospital. This incident took place around 7:30 pm during peak hours.
Regard to this incident Bollywood celebs took to their tweeter account and expressed condolence towards their family. Celebs including Amitabh Bachchan tweeted "In grief and in silent prayer .. !! Mumbai city"
T 3118 - In grief and in silent prayer .. !! Mumbai city

— Amitabh Bachchan (@SrBachchan) March 14, 2019
Vivek Oberoi too tweeted "Prayers for the victims and their families"
Perturbed to hear about the #MumbaiBridgeCollapse. So disturbing to see images and videos of the scene. Prayers for the victims and their families🙏

— Vivek Anand Oberoi (@vivekoberoi) March 14, 2019
Even Hema Malini, Riteish Deshmukh, Sachin Tendulkar too tweeted regarding the incident.
What a horrible tragedy.. so sad to know that many have lost lives. My deepest condolences to the families who lost their loved ones & prayers for the injured. This #MumbaiBridgeCollapse should have been avoided. This negligence is unpardonable.

— Riteish Deshmukh (@Riteishd) March 14, 2019
Tragedy- this time in the heart of Mumbai! The foot overbridge at the CST suddenly collapsed killing 5 people & injuring at least 36. I pray for those who have lost their lives & for those now in hospital for treatment🙏

— Hema Malini (@dreamgirlhema) March 14, 2019
Distressed at the news of the fall of part of the overbridge at CST. Praying for the injured.
Commuter safety needs attention and hoping that authorities act to prevent such incidents.

— Sachin Tendulkar (@sachin_rt) March 14, 2019
According to reports, the bridge was known as 'Kasab bridge' after the 26/11 Mumbai attack as terrorist passed through this bridge during the terror attacks.
Also read-
Raj Kumar Gupta to make biopic on RAW agent Ravindra Kaushik aka Black Tiger of India