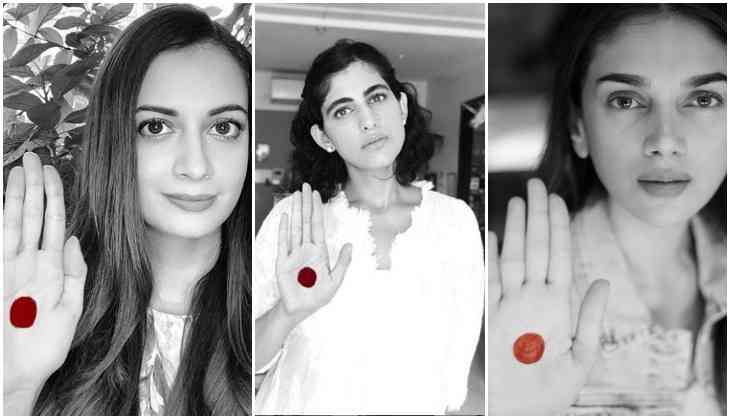 Menstrual Hygiene Day 2020
Menstrual Hygiene Day is observed on 28th May to create awareness among women and girls worldwide and to highlight the importance of good menstrual hygiene management. Recently, as the menstrual day was around the corner UNICEF started an initiative called Red Dot Challenge against the period shamming.
Taking up this challenge we saw many Bollywood beauties coming out and talking about the "periods" openly. Dia Mirza took to her Instagram handle and posted a monochrome picture showing off red dot on her hand. Along with the picture, she wrote a lengthy post wherein she talked about how there must be more awareness about how sanitary napkins are made out of plastic and is not just harmful to the environment but also for women.
In her lengthy post, she went on to talk about period shaming and how it should be put to rest. She also urged the women to switch to sustainable products that not just protect oneself but also the environment.
Also Read: Veteran actor Kiran Kumar after battling with Coronavirus says, 'Acceptance is necessary'
Following her was Aditi Rao Hydari who too shared the monochrome picture same as Dia and captioned it as, "Put period shamming a rest"
Kubbra Sait also shared the same image and shared that in the absurdity around the world, one thing is constant and that is periods. She went on to share that lockdown has giver her chance to cherish her body and to rest and hydrated during the periods.
Also Read: Sonu Sood shares video of his phone's notification bar filled with migrant workers messages
Here have a look at other celebs what they have to say on Menstrual Hygiene Day:
So here we are wishing all the girls and women a healthy and safe Menstrual Hygiene Day!
Also Read: When Alia Bhatt confessed of marrying Ranbir Kapoor when he was dating Katrina Kaif