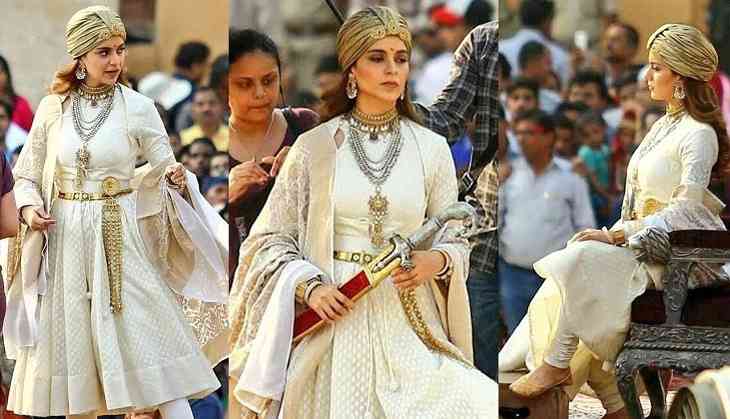 Manikarnika - The Queen of Jhansi: After Rajputs in Padmaavat, it is Brahmans for Kangana Ranaut's film
The protest against Sanjay Leela Bhansali's film Padmaavat is now coming to an end but it looks like that the protests cloud is not going to over soon for Bollywood industry. Now after Padmaavat, one more film is in trouble and this time it is for Kangana Ranaut's Manikarnika - The Queen of Jhansi. In this film, Kangana Ranaut is playing the leading role of queen Manikarnika alias Jhansi Ki Raani.
The shooting of the film is going in Rajasthan these days, and now 'Sarv Brahmin Sabha' have started the protests against the film. They have made allegations that they have not shown Rani Laxmibai's character properly and due to this, they are angry. They have warned the team of the film to stop the shooting of the film. Reports are also that Rajput Karni Sena is also planning to give a huge support to Sarv Brahmin Sabha.
The state president of the Mahasabha, Suresh Mishra said "The shooting of the film was going on in Rajasthan and after seeing some scenes of the shooting we found that the makers are showing a romantic angle between Rani Laxmibai with a British member. We found that the makers have brought some chapters of a book called 'Rani'. It was written by London based writer Jayashri Mishra, and this is to notice that the book is banned in Uttar Pradesh for controversial content. Now the Manikarnika makers are making a film in the same book,"
Also Read - Gold actress Mouni Roy is sizzling in these two stills of her new film's Bengali character
With this Suresh Mishra also added, "According to Jayashri's book in the film, Rani Laxmibai was told having an affair with British officer Robert Alias and this book got banned in Uttar Pradesh in 2008. We informed about this to the government on 9th January but still there is no reply from there."
Also Read - Here is what Akshay Kumar, Twinkle Khanna's son Aarav did with his mother's kissing scene with Ajay Devgn
This is to notice that Manikarnika - The Queen of Jhansi is slated to release in June 2018. The film is being directed by Gabbar is Back filmmaker Krish.