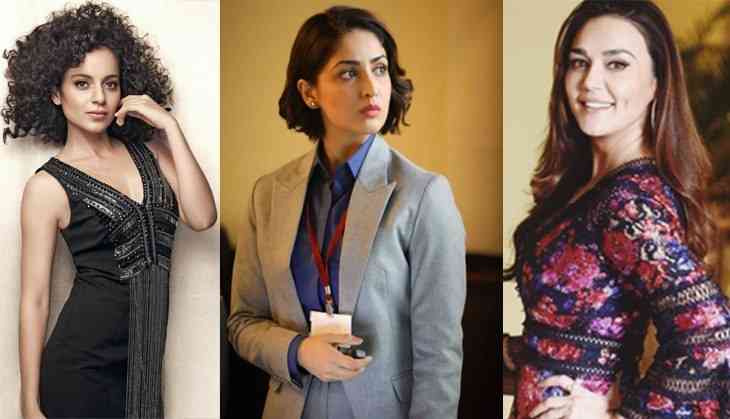 Bollywood has always been a diverse mix of beauty and brains from across the country. While the mountains have been a preferred location for film shoots, they have also given the film industry some very talented girls. We have put together a list of mountain beauties who have made their mark in Bollywood and are winning people's hearts with their charm and talent.
Coming from the small town of Bhambla in Himachal Pradesh, this fiercely outspoken beauty holds a great place in audiences' hearts for standing her ground and making a place in Bollywood. She has always chosen films that have sparked conversation and have moved the content needle forward. She won over the nation right from her first film Gangster for which she received a Filmfare Award. Her honesty, her love for great cinema and her talent has ensured she is here to stay.
2.Preity Zinta
Born and raised in the quaint and scenic town of Shimla, this dimpled beauty has charmed people with her fearless words, powerful acting and happy-go-lucky personality. Having been raised in an army family, she is a literature graduate from St. Bede's College and symbolises the modern woman of today. Her undying love for cricket and the country led to her investing in an IPL team - Kings XI Punjab, which has consistently performed well over the years.
3.Yami Gautam
Born in Bilaspur, Himachal Pradesh and raised in Chandigarh, Yami Gautam's first film Vicky Donor established her as a talented young girl with acting skills that impressed audiences nationwide. While she enjoys immense fan love from Hindi audiences, she has also acted in Telugu, Kannada, Punjabi, Malayalam and Tamil films. She has been in the film industry for almost a decade and has carved a niche for herself, attracting films of meaning and substance.
4. Sahher Bambba
Another gorgeous beauty hailing from Shimla is Sahher Bambba, who will make her Bollywood debut later this year opposite Karan Deol in Pal Pal Dil Ke Paas. Her innocent persona and charming smile have got her a huge fan following even before she is seen on the silver screen. If reports are to be believed, she has amazed her team with her fabulous acting skills and we can't wait to watch her!
5. Celina Jaitley
Redefining sensuality and beauty, Celina Jaitley has made many fans across the world. Known for her expressive eyes, she hails from the snow-capped town of Shimla and was crowned Miss India in 2001. She began her Bollywood career opposite Fardeen Khan with the film Janasheen and went on to bag many prominent roles in subsequent films.
Also Read - Akshay Kumar to John Abraham: 'It's time we work together'