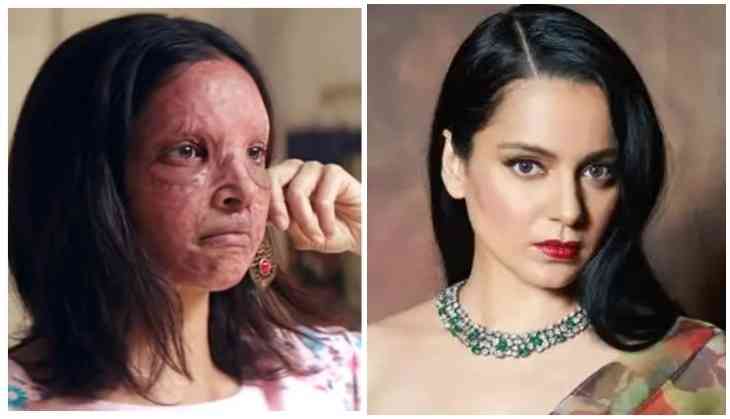 Kangana Ranaut - Deepika Padukone
After a gap of few months, Kangana Ranaut is back after praising Deepika Padukone for her film Chhapaak the actress is now bashing the actress for her insensitive challenge. A video that has gone viral on all social media platforms sees Deepika asked a TikTok user about her 3 difficult looks that the user could recreate.
The user then goes up to dress up as all three and impersonate her on-screen avatar including Malti from Chhapaak. Well, the first two looks didn't receive any lashes however, the third look didn't go down well with the netizens and they started trolling her by calling her and her PR agency insensitive. Joining this bandwagon is Kangana Ranaut who in a recent interview with India Today said that her sister Rangoli is an acid attack survivor and was very hurt after seeing the video.
She goes on to say that marketing teams tend to go overboard with their promotions and even Deepika must be having something like this. "The people who are hurt like my sister should be apologised to. This is not a make-up look and nobody should try and achieve it. That kind of insensitivity should be apologised for and there is no harm in doing that because we all make mistakes."
Also Read: Panga actress Kangana Ranaut lashes out at Tanhaji actor Saif Ali Khan for his remark on 'Indian history'
And just when we thought that @deepikapadukone couldn't mock Lakshmi anymore through her PR stunts in JNU she comes up with tick tok challenge on acid attack victims. Gross. pic.twitter.com/077Uz7hcEg

— Adv Smokiee (@SmokingSkills_) January 18, 2020
No @deepikapadukone.This promo isn't cool or cute. It's insensitive & ghastly.
The movie wasn't about you & your make up. It was about a woman scarred for life.And victims like her,whose marks can't be wiped off,unlike your make up.

You lost the plot,alas. https://t.co/9Zt8XEmSqI

— Smita Barooah (@smitabarooah) January 18, 2020
Also, Kangana requested people to not try this look as its insensitive gesture towards the acid attack victims and is not part of any challenge. People undergo lots of surgeries and pain to get their face corrected just like Rangoli who has undergone 54 correction surgeries post the attack.
Also Read: For Rangoli Chandel sister Kangana Ranaut did 'tacky' films; know why