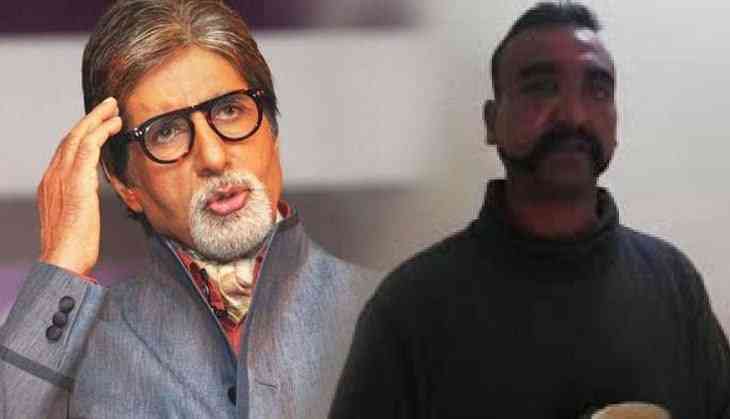 The war situation has created the worst time for India and Pakistan both sides, first on 14th February, a militant killed 40 CRPF soldiers. After that Indian Air Force destroyed all the terrorist camps in Pakistan and to reply to it Pakistan air force came inside India. Well, the Indian Air Force strongly replied to their attack but in this attack situation, one Indian Air Force Wing commander Abhinandan got arrested in Pakistan.
Now the whole country is praying for the return of Abhinandan Varthaman and social media has started a campaign to bring him back. Now Bollywood also has come out in support and wishes to bring Wing Commander Abhinandan back to India.
Bollywood's millennium actor Amitabh Bachchan also wishes a come back for Abhinandan and also saluted him.
T 3103 - Abhinandan .. शीश झुका कर .. अभिनंदन 🙏

🇮🇳🇮🇳🇮🇳🇮🇳🇮🇳🇮🇳🇮🇳🇮🇳🇮🇳🇮🇳🇮🇳🇮🇳🇮🇳🇮🇳🇮🇳🇮🇳🇮🇳🇮🇳🇮🇳🇮🇳🇮🇳🇮🇳🇮🇳🇮🇳🇮🇳🇮🇳🇮🇳🇮🇳🇮🇳🇮🇳🇮🇳🇮🇳🇮🇳🇮🇳🇮🇳🇮🇳🇮🇳🇮🇳🇮🇳🇮🇳🇮🇳🇮🇳🇮🇳🇮🇳🇮🇳🇮🇳🇮🇳🇮🇳🇮🇳🇮🇳🇮🇳🇮🇳🇮🇳🇮🇳🇮🇳🇮🇳🇮🇳🇮🇳🇮🇳🇮🇳🇮🇳🇮🇳🇮🇳🇮🇳🇮🇳🇮🇳🇮🇳🇮🇳🇮🇳🇮🇳🇮🇳🇮🇳🇮🇳🇮🇳🇮🇳🇮🇳🇮🇳🇮🇳🇮🇳🇮🇳🇮🇳🇮🇳🇮🇳🇮🇳🇮🇳🇮🇳🇮🇳🇮🇳🇮🇳🇮🇳🇮🇳🇮🇳🇮🇳🇮🇳🇮🇳🇮🇳🇮🇳🇮🇳🇮🇳🇮🇳🇮🇳🇮🇳🇮🇳🇮🇳🇮🇳🇮🇳🇮🇳🇮🇳🇮🇳🇮🇳🇮🇳🇮🇳🇮🇳🇮🇳🇮🇳

— Amitabh Bachchan (@SrBachchan) February 27, 2019
Anupam Kher also shared a poem dedicated to Abhinandan and saluted him for his bravery. Like this many Bollywood celebrities have come out and supported the wing commander for his bravery.
यह असीम, निज सीमा जाने,
सागर भी तो यह पहचाने
ईस मिट्टी के पुतले मानव ने कभी न मानी हार,
तूफानों की ओर घुमा दो नाविक निज पतवार।
Salute the courage of #IAF officer #WingCommandorAbhinandan. दुनिया के हर कोने में बैठा भारतीय आपकी बहादुरी का क़ायल है और आपके साथ है।जय हिंद। 🙏🇮🇳 pic.twitter.com/LxDZSB6SoI

— Anupam Kher (@AnupamPKher) February 27, 2019
Thoughts and strength to #WingCommandarAbhinandan amd his familly....India stands tall and proud with you....

— Karan Johar (@karanjohar) February 27, 2019
Our pilot #Abhinandan is in Pak custody. I hope & pray to God that he is not in the hands of a hate filled war monger like you. #BringHimHome #SayNoToWar https://t.co/7dyPkmzJLE

— Swara Bhasker (@ReallySwara) February 28, 2019
Now this is why I feared in all this celebration. Now what ! https://t.co/E8lLdurr9h

— taapsee pannu (@taapsee) February 27, 2019
We are all praying for the safe return of Wing Commander Abhinandan Varthaman #IAF gratitude from the daughter of a retired Indian Airforce officer @fbhutto for choosing humanity first & a way to peace🙏 Dugga Dugga & God bless https://t.co/6ztsyV5Dss

— sushmita sen (@thesushmitasen) February 27, 2019
Salute to the Wing commander #AbhinandanVarthaman
Nation is proud of you.
Prayers for your safe return !! #Peace 🙏🏻

— Kartik Aaryan (@TheAaryanKartik) February 27, 2019
Let us tell you that after the arrest of Indian Air Force Wing Commander Abhinandan, the people have started a trend on social media for not do to war now.
Also Read - Reel life sage foretold in film: IAF Pilot Abhinandan's father and Mani Ratnam's film Kaatru Veliyidai has a connection with current situation