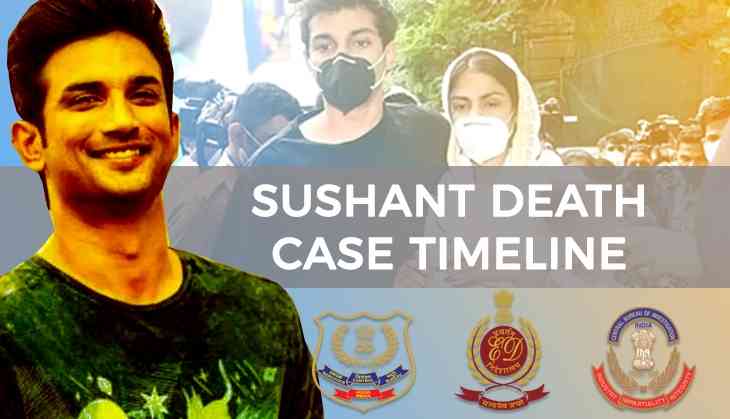 On day 20 (10th September) of investigation, Rhea Chakraborty who is in Byculla Jail, Mumbai in connection to the drugs angle in Sushant Singh Rajput's death case, applied for bail which got rejected. She in her bail stated that she was coerced into making self-incriminatory confessions during custody.
The 20-page bail application further read that Rhea is innocent and has not committed the crime whatsoever and she has been falsely implicated in the present case. On the other hand, a confession of Rhea's brother Showik has emerged wherein he said that he used to procure drugs for Sushant.
Here have a look at the events that happened yesterday:
11:49 am:- Rhea Chakraborty's lawyer Satish Maneshinde filed a bail plea which stated, "During her NCB custody, the applicant (Rhea) was coerced into making self-incriminating confessions. The actor has formally retracted all such incriminating confessions."
He further added that her arrest is "unwarranted and without any justification". Her liberty has arbitrarily been curtailed. Also, no female officer was present during her interrogation. (PTI)
Also Read: Ankita Lokhande clarifies her stance on Sushant Singh Rajput's case: 'Never said it's murder'
12:34 pm:- Rhea's lawyer claims in front of the court that Rhea should be given bail as no narcotics substances were found on the actress or during her house search. He further claimed that Rhea has been procuring drugs for SSR as he was an addict. Rhea has cooperated with the investigation throughout and will continue to do so.
On the other hand, NCB claimed that they are yet to interrogate her tablet's which is why they need her custody so that she doesn't hamper the evidence or act as a hurdle in the investigation, according to India TV reports.
3:25 pm:- Arguments on bail pleas of Rhea, Showik, Zaid Vilatra, Abdul Basit, Samuel Miranda and Dipesh Sawant concluded at Mumbai special court, order to be passed on Friday.
Arguments on bail pleas of Showik Chakraborty, Rhea Chakraborty, Abdul Basit, Zaid Vilatra, Dipesh Sawant & Samuel Miranda conclude at a Mumbai special court, order to be passed tomorrow.

They're arrested by NCB in connection with drugs case related to #SushantSinghRajput case.

— ANI (@ANI) September 10, 2020
4:15 pm:- Mumbai court reserves order on Rhea's bail plea till Friday
7:08 pm:- Showik in his statement to the NCB that's recorded under 67 of the NDPS act, Showik made shocking revelations. In his 6 pages long confession he admitted that he used to ask for drugs but he added that it was all for SSR. He said that he is a college student and has never consumed drugs himself, as per India TV reports.
He further added that he had arranged manicured marijuana and hashish for SSR, the recent one was in March where he arranged marijuana with the help of his friend Abdul Basit.
Meanwhile, a verbal war is going on between the celebs of tinsel town, yesterday we saw Shibani Dandekar attacking Ankita Lokhande. She alleged the actress for gaining 2 seconds fame by defaming Rhea Chakraborty. As soon as she dropped hate to comment on her social media handle, Ankita's fans bombarded her comment section by dropping 'fact check' comments.
Also Read: After Uddhav Thackeray, Kangana Ranaut now blasts 'Karan Johar gang'