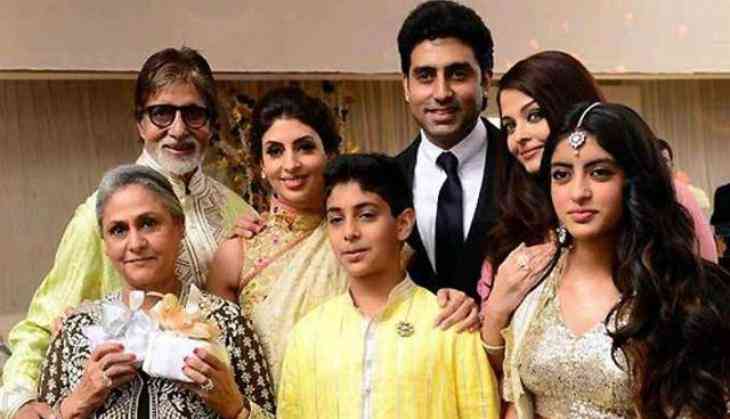 Like Karan Johar films, Bachchan family celebrates Karwa Chauth in a grand affair and Aishwarya Rai Bachchan has shared proof of it. The Bahu of Bachchan family and actress Aishwarya Rai shared a picture on Instagram to share the celebrations at Jalsa during Karwa Chauth. Aishwarya shared the picture that had Jaya Bachchan, Shweta Bachchan, Sonali Bendre and other women.
In the picture, you can see Aishwarya wearing floral yellow Salwar Kameez and she sits next to her Saas Jaya Bachchan. Whereas Jaya Bachchan can also be seen sitting in a blue saree and next to her, Shweta Bachchan is sitting in pink Salwar Kameez. Aaradhya is also sitting on the sofa with her mother.
Sonali Bendre joined Bachchan family at Jalsa and she also shared a picture on her social media account. Sonali while sharing her Karwa Chauth picture wrote, 'Moon Spotting'.
Even Amitabh Bachchan shared a picture of her wife on social media and wrote, "the better half .. !! quite obviously the other half is irrelevant .. and therefore unseen".
T 3521 - WAH .. !!🙏🤗

"खूबसूरती का मुकाबला आज अपने पूरे शबाब पर था,
आज एक चांद दूसरे चांद के इन्तजार में था" ~ Ef PA

Karva chauth ki shubhkamanayein .. unhein jo pran karti hain pati ki jeevan ke liye
करवाचौथ की शुभकामनाएँ ; उन्हें ,जो प्रण करती हैं पति के जीवन के लिए pic.twitter.com/dSAVekhJeE

— Amitabh Bachchan (@SrBachchan) October 17, 2019
Noticeably, Amitabh Bachchan is admitted to hospital from last three days and so he was not at the house for the celebration. Whereas, Abhishek Bachchan was also with him.
Also Read - 'Hari Bhari Heroine' comment: Sonakshi Sinha defends Akshay Kumar, says 'trolls have nothing better to do in life'