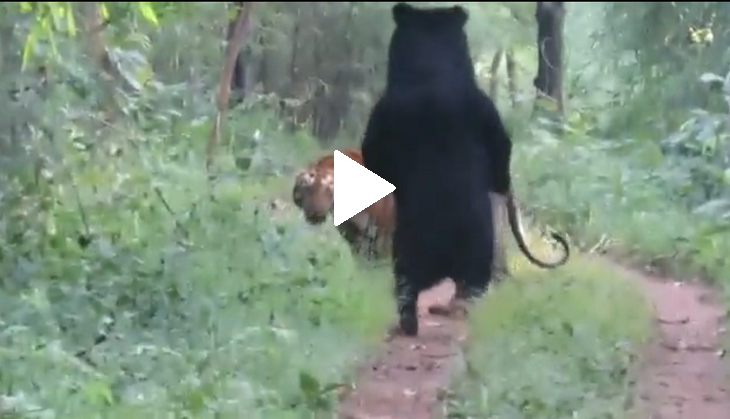 If you are looking for wild animal videos then this video will surely finish your search for such clips. A video of a close encounter between a tiger and a sloth bear has gone viral on social media.
The clip was shared by Indian Forest Service (IFS) officer Sandeep Tripathi on Twitter.
Also Read: Scary! 6 lions fight for deer's carcass; watch viral video
He captioned the video, "Close encounter!!! A close shave... For whom...even the tiger seems confused!!!!"
Watch the video:
Close encounter!!!
A close shave...
For whom...even the tiger seems confused!!!! pic.twitter.com/HD268nTKbQ

— Sandeep Tripathi, IFS (@sandeepifs) October 14, 2021

In the video, a tiger can be seen walking on a path in a forest area. A moment later, a bear can also be seen following the tiger on the same path. As the bear comes close to the tiger, the latter begins inspecting the situation. The bear also stands on its hind legs for a second while the tiger sits down on the ground.
Once again, the bear stands up again and then both animals turn back towards the people recording their close encounter. Soon, the bear runs towards the jungle while the tiger continues to sit on the ground.
Also Read: Forest official tries to capture sloth bear; what happens next will scare you!
Meanwhile, the video has gone viral on the microblogging site and it has received over 3k views. Netizens have also shared various reactions to the viral video.
"Baloo and Sher Khan having a talk," a user wrote. Another commented, "Wow….great sighting.And the moment they both realise,they are being watched.Thanks for sharing"
One of the users said, "There's wreckless confidence, then there's a sloth bear!.. Casually walking at a tiger... Looking back."
Another netizen said, "Respecting each other is also a way of sustainable living."
What do you think about the video?
Also Read: Deer's mother sacrifices her life to save her child from enemy; scary video goes viral