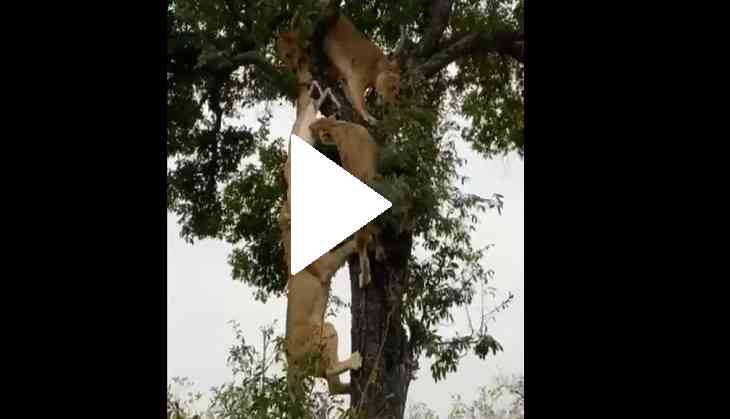 Screenshot from the viral video
Wildlife is pretty interesting and social media is filled with several cute, funny, and even scary videos of animals. One clip of lions fight for deer's carcass has gone viral on social media. The shocking footage was captured by safari tourists.
The video shows how animals fight each other for their survival in the jungle. At the beginning of the video, one lioness can be seen holding the deer's carcass by its neck while the other can be seen on the other branch of the tree. Soon, two other lions also try to catch the carcass from the middle, while two other also joined them to eat the food. As the deer falls on the ground, all 6 lions start fighting for their food.
Also Read: Scary! Lion bites zoo worker's hand after he tries to pet it; see what happens next
This rare scene of lions fighting was shared by an Indian Forest Service Officer Saket Badola on Twitter. He posted a video with a caption, "Ek shikar, kai haqdar!! The way of the wild."
Watch Video:
एक शिकार, कई हकदार !!
The way of the Wild. #SMForward #Nature #Wildlife @susantananda3 pic.twitter.com/pYhm1HoY28

— Saket Badola (@Saket_Badola) August 20, 2021

As per reports, the video is from the jungle safari in Africa because the lions in the video seem to be African.
Meanwhile, the video has been shared widely on social media. Many netizens are left terrified after seeing the video while many find the video interesting.
Also Read: Horrifying fight between two tigers; video will give you goosebumps!