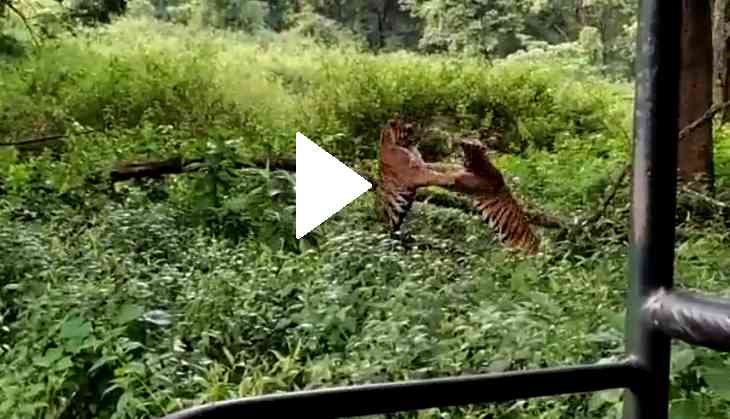 A screenshot from the viral video (Twitter/BS Suran)
A video of two roaring tigers pouncing at each other has gone viral on social media. The ferocious fight took place at Nagarahole National Park and Tiger Reserve in Karnataka.
All thanks to the tourist who shot this rarest of the rare incident on his phone during a safari into a jungle.
According to forest officials, usually tigers fight between themselves over their territorial limits in the jungle.
The whole frightening incident of two Royal Bengal tigers was witnessed by the tourists and one of them recorded the whole episode on camera.
Also Read: Scary! Lion bites zoo worker's hand after he tries to pet it; see what happens next
The video was shared by a Twitter user named B S Suran with a caption, "Today At #Nagarhole"
Check out the video:
Today At #Nagarhole #TigerFights #Tiger pic.twitter.com/AwCPbo8gGB

— B S Suran ✌🏽 (@suranbs) August 9, 2021
Meanwhile, the viral video of the big cats' fight has stunned netizens.
Earlier in July, a 17-year-old tiger had suffered injuries in a clash with another big cat in Pench Tiger Reserve. Later, it was shifted to Van Vihar National Park in Bhopal in Madhya Pradesh.
Also Read: Terrifying clip shows bull moose charging at man recording its video
Another old fight video of two tigers has surfaced on the internet. In the clip, the roaring battle can be seen between the two tigers in the forest. While tourists can be seen filming the ferocious fight in their cameras.
The viral video was shared by Indian Forest Service Officer Parveen Kaswan on his official Twitter account on January 14, 2020.
Also Read: Video of deadly fight between 2 tigers will leave you in shock!