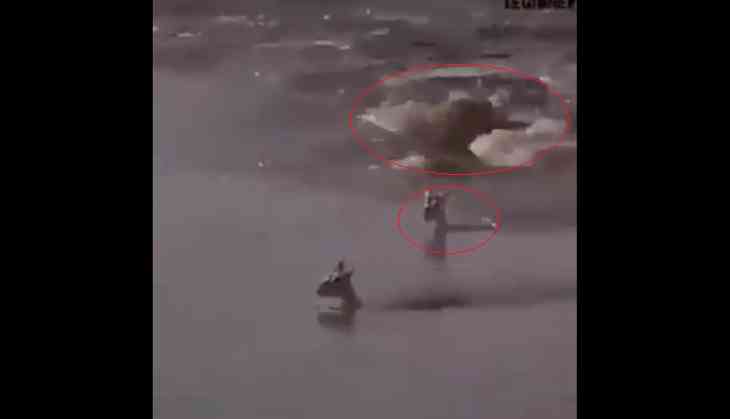 Deer's mother sacrifices her life to save her child from enemy
A mother's love for her children has no limit; she can even put her life at stake for her child.
This love and affection are not just seen in humans but also among animals who also love their children in the same way. One such heart-wrenching video has resurfaced on the Internet which showed the pure and real bond between a deer and her child.
In the video, the mother deer can be seen sacrificing her life to save her child from the enemy inside the water.
The old video has been shared on a Twitter account @22forest22 on June 1, 2020, which also went viral in 2018.
In the viral video, the family of deer is seen roaming near the bank of a lake in a forest. In a few seconds, the baby deer is seen going inside the lake where a crocodile is waiting to eat it.
After seeing her child in danger, the mother deer immediately jumps into the lake and sacrifices her life without thinking about her own life.
The huge reptile attacks the mother deer while the baby deer safely gets out of the lake.
Watch Video:
يحدث في الغابة - الغزالة الأم كانت تتجول مع صغيرها بجانب نهر تسكنه التماسيح...
وفجأة هرول الصغير نحو النهر .
فشاهدوا ماذا صنعت الأم لكي تنقذ صغيرها من الموت المحقق !
مشهد مؤثر ... وماهو تعليقك عليه ؟؟
.
( تابعنا وشاهد النوادر ) pic.twitter.com/T2BiPICQM8

— عالم الغابة (@22forest22) May 31, 2020

Till now, the viral video has garnered over 99k views and 1,310 likes on Twitter. The video has also left netizens in shock.