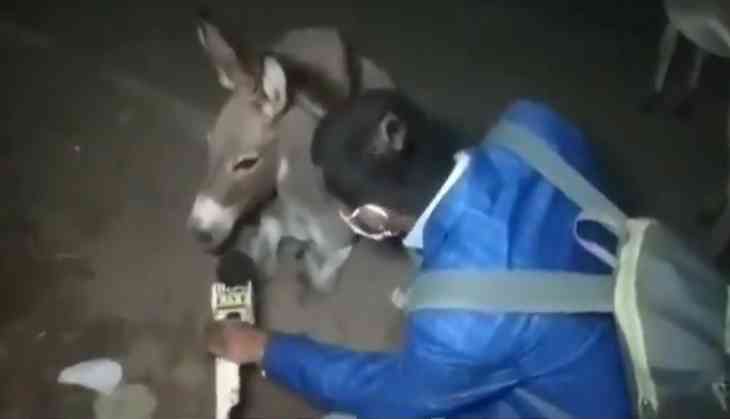 Since lockdown lifted in India, several reports have come that people are flouting the corona guidelines by not maintaining social distancing and also roaming without wearing masks. Amid this violation, a journalist has found a way to teach lessons public with the help of a donkey.
Yes, you read right! A video is doing rounds on the social media in which the journalist tried to speak with a donkey sitting on the road. He asked the animal why it was sitting on the road without wearing a face mask during coronavirus. He put his mic on the donkey's mouth to get an answer from him.
As everyone knows that animals can't speak to humans, hence, the journalist got no answer from the donkey.
After getting no response from the animal, the journalist moved to a passerby who was not wearing a mask. In his conversation with the man, the reporter sarcastically compared the man with the donkey for not wearing a mask like the animal.
The journalist referred to the donkey and asked the passerby that why the animal didn't respond to his question.
The man replied, "ye gadha hai (it is a donkey)", thereby proving the reporter's point.
The reporter immediately responded to man's answer: "Gadha jo hai, woh lockdown mein bahar ghoomta hai aur mask nahi lagaata hai (A donkey roams outside during the lockdown and doesn't wear a face mask)."
Eventually, the witty journalist made man to admit that he is a donkey for not wearing a face mask while stepping out.
The viral video of the journalist has also sought Indian Police Service (IPS) officer Arun Bothra's reaction on Twitter.
See Video:
Best media interview of the Lockdown period 😎 pic.twitter.com/qbHGflcoBx

— Arun Bothra (@arunbothra) July 21, 2020

The same technique he followed with other people who are roaming without wearing a face mask.
Meanwhile, the internet is praising the journalist for his unique way to spread awareness among people.
Real message is in the very last line "Gadha lockdown me bahar ghoomta hai, aur mask bhi nahi lagata hai".. the guy being interviewed didn't get the sarcasm 😅😅

— Prabhat Chaturvedi (@PrabChats) July 21, 2020
And still that didn't get it that he was called a 'gadha' 😂

— aaloo kachaloo (@bolkahangayethe) July 21, 2020
And so didn't many even after viewing the video all the way to the end ma'am...hats off to the ingenuity and satire of the journo though.😋😋

— Siddartha Bojja (@Siddharth27Oct) July 22, 2020
Made me laugh out loud ...like really 😂😂😂

— Himalayan Girl🇮🇳 (@ipshita01) July 21, 2020
True sir... Mask nahi lagane wala har admi gadha he ...
Respected regards pic.twitter.com/FNjMoay5Yj

— Harish Kumar Choudhary (@HarishK75443697) July 21, 2020
😂😂😂
An actual purposeful interview, unlike the studio ones pic.twitter.com/iuowEJEQDj

— SafelyLockedDown (@nroythomas) July 22, 2020
Meanwhile, the video has garnered over 221k views on Twitter.
Also Read: Oh No! News anchor's front tooth fall during live show; video goes viral