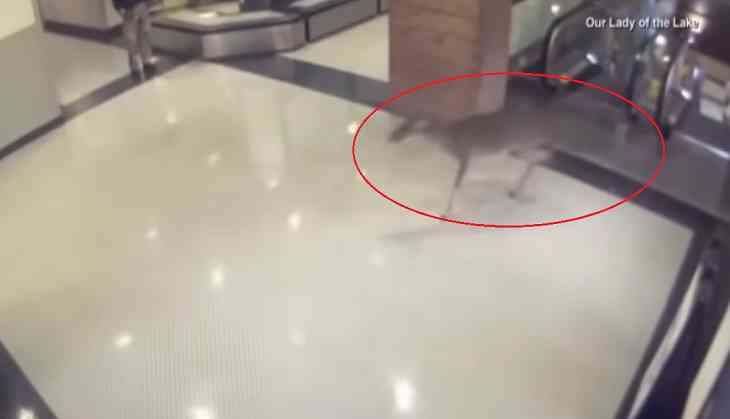 CCTV footage of the hospital has surfaced on the Internet wherein an injured deer can be seen roaming inside the premises of a hospital.
The incident was reported on Monday in a hospital in Lousiana in the United States. The video proves that the deer is intelligent as it knows where to seek medical help after being injured.
In the surveillance video, the distressed animal can be seen entering Our Lady of the Lake Hospital through an open door. On entering, it lost its balance on the slippery floor. Later, it can be seen going onto the second floor through an escalator as if the deer already knows where it will find the doctor.
Also Read: Video shows two ostriches running free on road; clip goes viral
However, the hospital staff and other people can be seen in a state of shock after seeing the animal entering inside the hospital.
When the deer reached the second floor of the hospital, it was corralled by the people, including a law enforcement officer and another person in scrubs.
Later the deer was loaded on a hospital bed and took it away through a truck from The Louisiana Wildlife and Fisheries Department.
Watch Video:

The video was shared on the YouTube channel of Inside Edition. Ever since the video is being shared on social media, it has garnered 197,509 views and 9.6k likes on the page.
"Our team members are always ready for the unexpected. The Louisiana Wildlife and Fisheries Department responded promptly helping to remove the animal. Patient care has not been interrupted and the area is being thoroughly sanitized," the hospital said in a statement.
According to the video description, "The deer was eventually sedated and rolled out. Sadly, due to its injuries the deer had to be euthanized."
Also Read: Zookeeper scrubs alligator in this viral video; its reaction will melt your heart