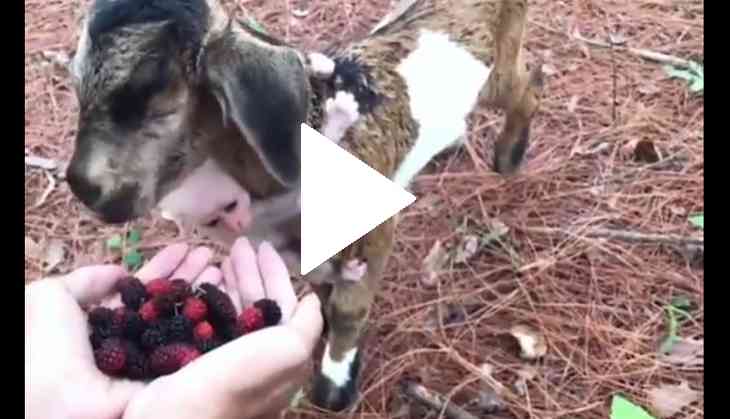 Viral video shows man offering berries to monkey and goat
If you are looking for some videos to brighten up your mood then this viral video will surely help you out. A video of a baby monkey clinging onto a goat has surfaced on the Internet.
Netizens are loving this adorable bond between the two animals.
The duo can be seen eating the berries offered by a man in the video. The clip was initially posted on a Twitter account named Ink Blot and was later reposted by another Twitter user named Kristi Yamaguccimane. Without any doubt, the video has gone crazy viral on social media.
Also Read: This 42 million views video of hippopotamus will leave you stunned!
In the viral clip, a man can be seen standing with berries and he is also calling out to the goat to eat. After hearing the voice, the goat comes out from the woods and runs towards the man. When it comes closer, a baby monkey is also seen clinging to the goat's back.
Finally, both animals enjoy the berries being offered by the man. Initially, the monkey is sceptic to eat the berries but later it also joins the goat and starts eating the fruit.
"Am I high right now what is happening," the video caption reads.
See video:
Am I high right now what is happening pic.twitter.com/itBaV1XUNK

— Kristi Yamaguccimane (@wapplehouse) September 26, 2021
Meanwhile, the video has garnered 16.2 million views, 139.2k retweets, and 705.3k likes on Twitter.
Netizens are also loving the video of the monkey and goat enjoying the berries.
A user wrote, "I am now in love. I need to be near them both. I will devote my life to them. Feeding them berries and nuts and whatever their little heart desires."
"How cute. I didn't even notice the little hanger-on at first," another commented.
Also Read: Dog interrupts match by running onto the pitch; watch pawdorable video