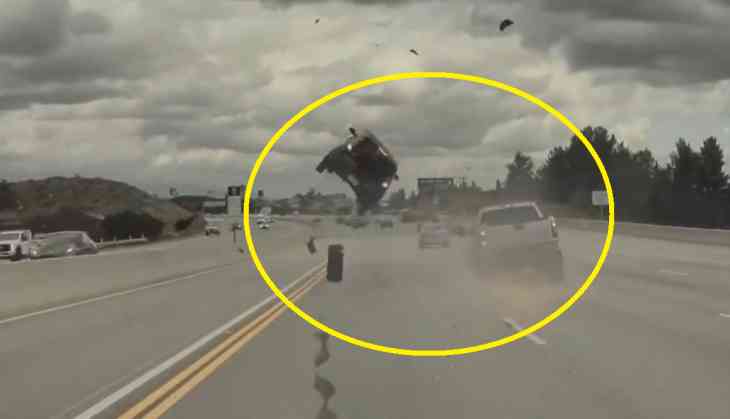 A video of a road accident has gone viral on the internet, reminding netizens of scenes from the 'Final Destination' movie.
In the clip, vehicles can be seen running at high speeds on the highway. Suddenly, a tyre from a pickup truck slips out and rolls under another car driving alongside it, causing it to flip in the air.
Remarkably, the driver of the pickup truck manages to maintain control of the vehicle without the tyre and pulls over safely.
The entire incident was recorded on the dashboard camera of the vehicle trailing behind.
Wath here;
March 26, 2023
The clip was shared by a Twitter account named @vidsthatgohard. Since being shared the clip has accumulated more than 5.7 million views and over 40,000 likes.
Also Read: Shocking: Video shows airport crews roughly handling luggage in different countries
Here are some interesting comments.
does the truck get charged or what happens?

— ralph (@r6lphyy) March 26, 2023
There's no way this is real

— michael tishchenko (@MTishchenko) March 26, 2023
It was the tires fault though….not the trucks fault 🤷‍♂️

— Teiichi Fukada (@TinTeiichi21) March 27, 2023
The truck probably didn't have its tire attached correctly. You can't just place it on the truck, you have to tighten the lug nuts. Someone was probably negligent.

— Representative Press (@RepPress) March 26, 2023