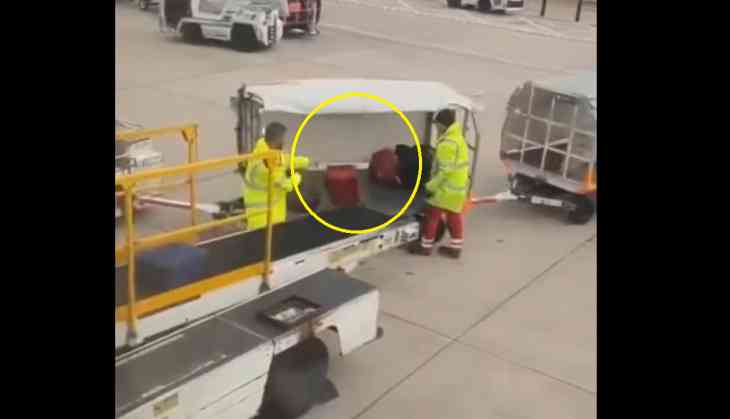 We all love our flight journeys because they are convenient and save time. We make special purchases for these memorable trips, such as expensive trolley bags that are specially designed for air travel. But have you ever wondered how your luggage is handled before it is placed on the baggage carousel?
Well, this viral video has the answer to that question.
In the video, airport crews from different countries can be seen unloading passengers' baggage after the flight has landed. The clip shows the airport crews from different countries handling the luggage unprofessionally and carelessly. They can be seen literally throwing the luggage on trollies without taking care of delicate items that may have been packed by the passengers.
Why are they so angry ?

— Manish Tiwari🇮🇳🇺🇸 (@manish_tiwari18) March 26, 2023
The video was shared by a Twitter user who goes by the name Tansu Yegen with a caption, "This is how luggage is handled in different countries at the airport…"
Since being shared the clip has accumulated more than 4.6 million views and over 31,000 likes. The 2.20-minute-clip has also prompted Twitter users to share their experience in the comment section.
Also Read: Watch: 12 wild elephants spotted at residential area in Odisha's Jharsuguda
Here are some interesting comments.
JAPAN IS BEST in the world!

— 阿部 将一 @MZDAO (@shoichi_abe1024) March 26, 2023
Last week I lost three wheels and a broken side 😅 thanks @AirCanada

— Altuğ Öztürk (@altugozturk) March 26, 2023
You don't want to see how it's handled in Nigeria .

— EDEH (@ViktorEdeh) March 26, 2023
That's why I m investing in AI so that AI comes fast and robots work.

— Eray Erdemli (@ErayErdemli) March 27, 2023