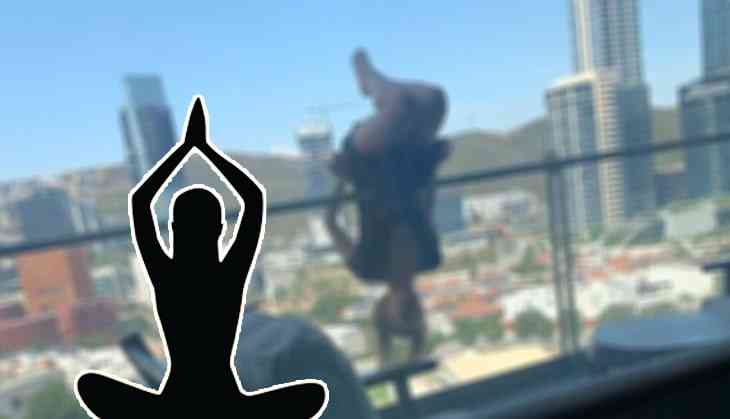 In a bizarre incident, a woman slipped from a balcony when she was trying some Yoga pose.
As per the reports of Daily Mail, this shocking incident took place in Mexico where a college student survived the 80-foot fall.
The girl identified as Alex Terrazas, 23, got slipped from the balcony when she was attempting a dangerous Yoga pose over the edge of the balcony.
Unfortunately, her Yoga pose didn't go well and she fell from the sixth-floor.
An image of Alexa performing a Yoga pose before falling went viral on Twitter and widely circulated.
The picture was captured by her friend before she slipped.
See picture:
LLEVA AL EXTREMO
PRÁCTICA DEL YOGA
Al practicar un tipo de yoga al extremo, una joven de San Pedro cayó desde el balcón de su depa a 25 metros de altura.
Alexa Terrazas tiene 110 huesos rotos. Le tienen que reconstruir tobillos, rodillas, cara etc. y no caminará en 3 años. pic.twitter.com/0ftoHPcMCa

— JavoRayado (@javierehdz) August 27, 2019
After the fall, the girl was rushed to the hospital and underwent surgery for around eleven hours.
As per doctors, Alexa's condition was critical and she had suffered from serious injuries, her arms got fractured. Even doctors have reconstructed her legs that got broke due to the fall.
Reportedly, Alexa won't be able to walk properly for the next three years, doctors said.
However, it is not the first time when Alexa tried such dangerous stunt while practicing Yoga, neighbors said.
The police officials investigated the matter no structural damages were found in the railing on the balcony, from where Alexa slipped.
Also Read: Viral Video: Police officer filmed his pre-wedding shoot in uniform, receives notice from officials